The early years of a child's life are focused on learning and developing the skills that they will need as adults. Gross and fine motor skills and hand-eye coordination are important physical abilities as they allow children to interact with their surroundings. Riding a cycle helps to instil and improve these motor skills in toddlers and young kids.
A trike is a bike with a third wheel for support and balance. It is a great way to introduce your little one to the joy of cycling minus the dangers. You can buy your child a trike with a push handle as this will give you control over the steering.
Toddlers and young children are still developing their sense of balance. This means that they are prone to falls and injuries. This is why it is important to make sure that your child uses the proper safety gear while cycling.
6 Tips for Cycling Safety Gear for Kids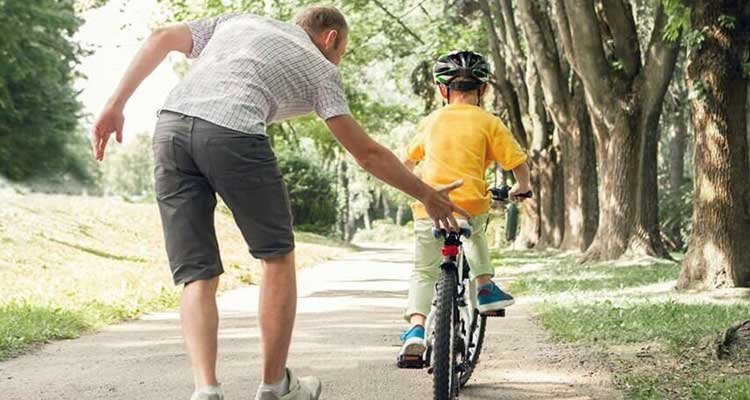 A good helmet is an absolute must
A recent study on bicycle-related injuries among children found that there are more than 600 cases per day across the country per day. The most common injuries were to the upper extremities including minor bruises and scrapes as well as serious injuries including traumatic brain injuries. A bike helmet is a proven way to decrease the severity and likelihood of a head injury.
When choosing a helmet, look for the Consumer Product Safety Commission (CPSC) sticker to ensure that the helmet meets the required quality and safety standards. A good fit is also important to make sure that it stays in place. You will need to measure the circumference of your child's head at about an inch above their eyebrows and compare this to the manufacturer's listed size range to get a helmet that fits your child perfectly.
Buy elbow and knee pads at brick and mortar stores
Elbow and knee pads can be very uncomfortable which is why kids often refuse to wear them. A simple way to avoid arguments over elbow and knee pads is to avoid buying them from online stores and instead opt for a brick and mortar stores. This will give your child a chance to try on various options so that she can choose one that she likes. Look for pads that have Ethylene-vinyl acetate (EVA) foam cushioning as this material is light but absorbs impact shock.
It is best to encourage your kids to use elbow and knee pads but don't force it. If your child is at that stage where she says "no" to everything and refuses to use elbow and knee pads, you can use this as a teachable moment to help her develop her own decision making skills. It's understandable that you would want to protect your child as much as you can but it is important for her to learn from experience.
Buy high-quality Toe Clips
In the last decade, toe clips have gained popularity, especially among beginners. Toe clips are a foot retention system that keep your foot in place and prevent your feet from slipping off the pedal.
Toe clips with straps may be a little intimidating for beginners, especially children so you can use cage-style toe clips instead. The cage also helps your kids keep their feet in the most effective position for pedalling which is the ball of their foot on the pedal. Some pedals add additional power through upward foot motions as well which increase the efficiency of the pedal stroke.
It is important to invest in high-quality toe clips as most inexpensive toe clips compromise on quality in order to remain on the lower end of the cost spectrum. This means that the mechanical components are more likely to break or fail which can increase the risk of a fall.
Don't ignore eye protection
Cycling glasses or sunglasses for kids are not just a cute fashion accessory as they provide long-term eye health benefits. For instance, the risk of cataracts is tripled by long-term exposure to the sun's UV rays but sunglasses provide up to 100% UV protection. The effects of UV damage are cumulative which means that even short but frequent outdoor cycling can result in vision problems for your child later on.
Cycling glasses also offer protection from the elements as well as dust particles and bugs. If something gets into your child's eye while he is cycling, he is likely to lose his focus and fall.
When picking out cycling glasses for your child, look for one that offers decent coverage around the sides of the eyes for maximum protection. The glasses should also have a rubber nosepiece that can be adjusted according to the dimensions of your child's nose to prevent the glasses from slipping off.
Invest in visibility aids
Visibility aids increase rider safety as they ensure that drivers are able to see the cyclist when they are still a long way off. Visibility aids include bike reflectors for the front and back of the bike as well as amber reflectors for the pedals, seat-post and rear rack.
You can also attach a bright orange safety flag to the back of your child's bike. Kids' 16-inch bikes are much smaller than adult cycles and so they are more easily overlooked by drivers. An orange safety flag ensures that your child is more visible to other drivers which will reduce the risk of an accident. This is especially important if you live in an urban area. In addition to bike reflectors, you can also give your child a reflective vest that can be worn over a t-shit or jacket.
Install a bright LED front light
Toddlers and young kids do not need front lights since they won't be cycling in the night. However, if your kids are older and prefer to go cycling with their friends later in the evening, it would be wise to install bright LED front lights for maximum visibility.
When buying a front light for a bicycle, choose one that is bright, easy to install and water resistant. You should also check the type of power source required for these lights. Older bicycle lights require ordinary batteries while most of the newer ones have rechargeable batteries built in. Many of the rechargeable batteries can be charged using a USB cable which makes them very convenient and easy to use.
Whether you're buying safety gear or a bicycle for your child, always make sure that it fits their current requirements and that they do not need to "grow into it". You cannot expect your six-year old child to continue using the same bike he used when he was three years old as he would have outgrown it. As a general rule of thumb, a 20 inch bike is ideal for kids who are 6-9 years old, though some may even be suitable for older kids as they have adjustable handles and seats.
In addition to bicycle safety gear, you should also ensure that your child understands the rules of the road.
This is Pooja. Blessed with two baby girls. A working mom and a part-time blogger. Love cycling with my family and I will never stop exploring.
Playgrounddad.com is my baby and the goal is to help working parents to pick the best baby products within budget.
Connect with me, Find my social channels below.