With rapid progression and increasing basic needs in the contemporary world, the creation of new products continues to grow. Such a product worth mentioning is the noise cancelling headphones with separate features designed especially for kids and babies.
These best noise canceling headphones for kids and toddlers provide ear protection and earmuffs. Besides white noise machines, parents of kids on the spectrum heavily rely on them to induce calmness and physical comfort.
Scroll down to read our in-depth review of some of the best noise cancelling headphones for children.
In a Hurry? Check out the Top Picks!
If you're on the clock, take a look at these headphones that stand out from the others.
Categories
Product name
Features
Most Comfortable
Cozyphones Kid's Headphones

Soft material with cable
volume limited
compact
washable
compatible
cheap
durable and colorful

Best sound quality
Elecder i37 Kids Headphones

Excellent sound
comfortable
adjustable
portable
can be used by adults
various colorful designs
warranty is given

Best on a budget
Snug Kid's Headphones

High quality sound
safe
compact
adjustable
lightweight
multiple color options
long term durability

Professional design for special purposes
Mpow 068 Kids Ear Protection, NRR 25dB Noise Reduction Ear Muffs

Comfortable
durable
eco-friendly
adjustable
compact
designed for use by adults and children with autism, ADHD and sensory issues
cheap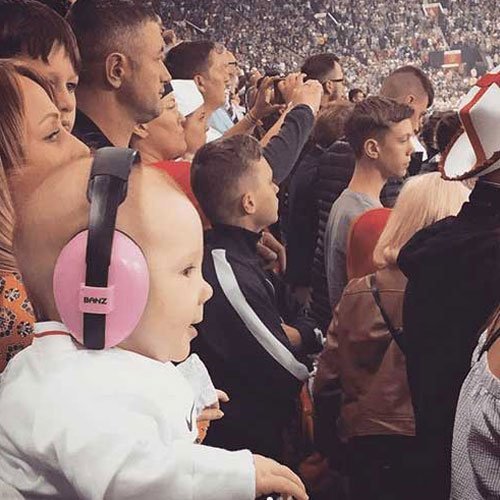 Benefits of Noise Canceling Headphones for Kids
There are a number of reasons for purchasing and using a noise cancelling headphone. It is used as more of a product of health benefit rather than only for entertainment purposes. Here is a list of the most common benefits of noise cancelling headphones and earplugs.
The first and foremost point to mention is, of course, its action to cancel out unpleasant sounds in surroundings and protect the ear that is one of the delicate organs of our body, especially of kids. Children have sensory ears with delicate eardrums that are prone to damage from harsh noise. These headphones help to prevent kids and adults from hearing loss.
These headphones help to eliminate the stress that is induced from noise. In a world of increasing noise pollution, this works like a stress reliever. This is important for children to make them more focused and to improve auditory issues. Such improvements in hearing are vital for children with autism or ADHD.
Including stress relief, these headphones also allow children to adjust to the unfamiliar or unpleasant environment. Sensory damages are prevented and help them to be calm and comfortable. While traveling this is a huge matter of relaxation as there would be no more worries about the difficulties faced with unsettled children. Children will easily develop themselves to adapt to new surroundings.
These headphones with several health benefits for children also improve the quality of life for adults. These help them to relax, filter out annoying sounds and to sleep peacefully in a soothing environment.
Best Noise Cancelling Headphones for Babies/Kids and Adults
Baby Banz Infant Hearing Protection Earmuffs
Earmuffs that are rated as soft and comfortable
These headphones are best for infants and toddlers aging from 24 months and above. The product is comfortable with its soft padded foam muffs and soft leather headband.
With a variety of sizes to choose for the perfect fit, they also stay gently around the ears that prevent the children from tearing them apart.
These are made by a professional brand designed with adequate features that can be used in noisy places as it can withstand maximum sound levels.
Features
Designed specifically for infants
Block harmful noise to protect sounds effectively
Soft, comfortable and lightweight for long wear
Adjustable and foldable
Washable and durable
Colorful
Drawbacks
Not suitable for older children, so needs to be replaced after a certain time. It might not be very easily portable. The product is more on the high end, so not budget friendly.
Reviews suggest that the product works like a charm to put the babies to sleep peacefully with no sign of discomfort and perfect soundproofing. It is worth every penny spent.
Elecder i37 Kids Headphones for Children Girls Boys Teens
Compatible to iPad, cellphones, and computer
These are excellent stereo bass headphones with good sound effects and compatibility to various jacks. These include soft plush headbands and ear pads for comfortable wear.
These are adjustable, foldable and there are also wireless ones. The professional brand provides a headphone with adequate features to provide older children with an enriched listening experience while ensuring ear protection.
Features
Excellent sound to promote immersive listening
Comfortable, adjustable, foldable and lightweight
Easy to carry and do not tangle
Can be used by adults
A year warranty with efficient customer service
Various colorful designs
Drawback
These cannot be used for young children, especially infants.
Reviews suggest these to be kid approved with excellent sound quality and comfort. These are especially liked for the cheapness and different colors to choose from.
CozyPhones Kids Headphones Volume Limited with Ultra-Thin Speakers & Super Soft Fleece Headband
Perfect for both toddlers and children with exclusive design
Another headphone for children that has excelled in design from conventional ones with the aim for super comfort. They are made out fleece, flexible and adjustable that exclude the bulkiness of ear pads and headbands.
These provide the same features like the conventional ones with the extra comfort of wear. They also provide double duty by acting as an eye mask. There are no issues of discomfort or risk of ear problems.
Features
Comfortable with soft material and tangle-free braided cable
Volume limited for hear protection
Foldable, washable and stretchable
Lightweight and travel-friendly
Compatible to a wide range of devices
Designed for kids to ensure long durability
Fun design with variety of colors
Cheap
Drawbacks
Might need to be adjusted before use
Reviewed to be comfortable making the children look extra adorable with wear. These are becoming a fan favorite rapidly with minimal complaint.
Mpow 068 Kids Ear Protection, NRR 25dB Noise Reduction Ear Muffs, Toddler Ear Protection
Certified as eco-friendly and professional headphones
These headphones are designed for professional purposes including suitability for autistic children. The earmuffs cancel out noises to help them rid of interference.
They have soft ear pads for comfort wear with skin-friendly leather ear cushions and generous space inside ear cups.
Super quality material ensure the comfort and amiability of the product for children to use. These can also be used by adults while shooting, traveling or doing other activities that create noisy environment.
Features:
Soft, comfortable and durable
Contains non-toxic materials for safety and preventing irritation
Adjustable, foldable and compact
Convenient storage to carry
Specially built for professional purposes to be used by adults
Cheap
Drawbacks:
There might be difficulties in fitting the headphone. In some cases, the sound might not be canceled completely. The headphone is more suitable for toddlers than infants.
Recommended by consumers for ear protection of children especially ones with autism. They are also evident to provide the comfort mentioned.
Professional Safety Ear Muffs by Decibel Defense – 37dB NRR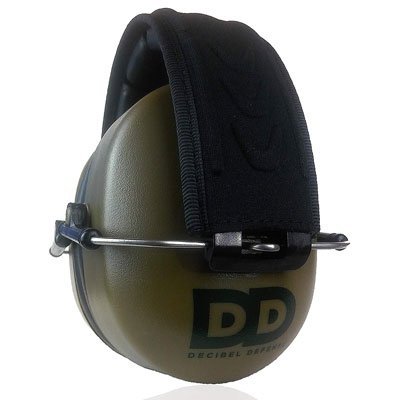 The highest-rated headphones for shooting and industrial purpose
As the name suggests, these are highly professional in its features. They provide great defense against high sounds in all environments for adults, children, and toddlers.
They are also super comfortable with smooth padded cells for long wear. Adults can use them without a doubt for heavy machine works like shooting, land mowing, and construction work and so on.
Features
Convenient with comfortable headbands with an anti-slip technology
Foldable and lightweight
Effective in reducing harmful sounds and protecting ears
Can be adjusted for sound reception
Used in areas of loud work
Can be used by children
Drawbacks
Might cause slight discomfort to some users as the band is made of plastic. Some of the heavy noise may not be filtered out. The product is more towards the higher price area. Also these are not comfortable to use while sleeping.
Reviews suggest that the overall performance of the headphones are impressive to consumers and provide the features as advertised. These are mostly useful to wear while doing loud works.
Puro Sound Lab Volume-Limiting On-Ear Wireless Headphones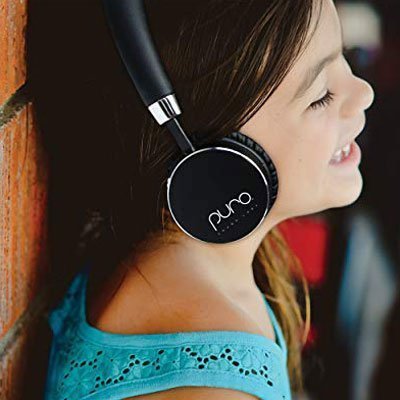 Wireless headphones with high technical features for kids and adults.
These headphones are built with the greatest technology. They do a great job in protecting the eardrums by eliminating unpleasant noise. This product also improves hearing and it is comfortable to use. The wireless properties allow the headphones to be used everywhere.
Features
Volume is limited with ANC (Active Noise Cancellation)
Solid build quality
Reduces harsh noises most effectively
Can be used as headsets for cell phones
Cushioned with comfortable ear cups
Non-toxic materials are used to irradiate the possibility to have allergies
Wireless, Lightweight, Portable, and Adjustable
Long-lasting battery
Drawbacks
These are premium products so they are quite expensive. Might be uncomfortable in case of some users. It does not have built in audio controller however the levels are adjusted through ANC.
Reviews suggest these to be useful in cancelling noise and comfortable for children. Costumers are pleased with the products overall design and its technological aspects.
EMS for Kids Baby Earmuffs – Designed Specifically For Babies
Exclusive design especially for kids
The product is certified infant and toddler safe by the medical specialists. They can be used in various areas to reduce surrounding sound levels. They are comfortable and safe. There are various ranges of products for various age groups.
Features
Designed for infants
Adjustable, small and easy to carry
Washable and easy to store
Protects ears from harsh noises
Double layer foam creates extra comfort
It is found in many colors.
Drawbacks
The product is expensive. The headband might slip off and needs frequent adjustment.
Reviewed by customers to be effective in noise cancellation and providing comfort to children. They help to ensure a peaceful sleep.
Fnova 34dB Highest Safety Ear Muffs
Professional ear protector for children and adults
They provide great ear protection and noise cancellation. These headphones are made of premium quality materials. This ensures longer durability and safety for users.
The high tech features allow these to be used in noisy conditions and activities like shooting events, concerts, festivals. They are comfortable, portable and also adjustable.
Features
Unique technology for maximum reduction of noise
Padded headband and the swivel cups makes them comfortable
Foldable, adjustable and travel friendly
Long lasting product with a fashion statement.
Warranty provided
Cheap
Drawbacks
It cannot be used for infants. Hundred percent noise reduction cannot be assured.
Reviews suggest these provide effective reduction of loud noise and are comfortable to wear. These are going for use in the time of traveling and loud environment.
Vanderfields Earmuffs for Kids, Toddlers, and children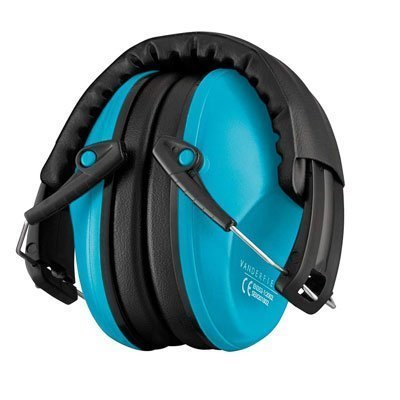 Versatile headphones for small adults
These are built to prevent ear damage by reducing sound level and improving focus. Premium quality materials are used for maximum effectiveness and durability. They are also comfortable and portable. These can be used in a number of settings with no safety issues.
Features
Premium materials are used for shielding ears
Extra padded ear cushions make them comfortable
Light, adjustable, compact and travel-friendly
Cheap
Can be used by all
Drawbacks
The muffled sound, may not block all the outside noise. There might be difficulties in adjusting the headphones. Not suitable for infants
Reviewed to have solved hearing problems. Children with hearing problems can adapt to their surroundings. The extra padding makes the product comfortable.
LilGadgets Kids Premium Volume Limited Wired Headphones with SharePort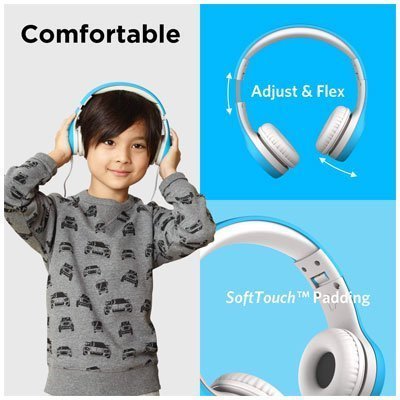 Ear defenders with 'Shareport'
Enhanced durability, long term usage, and noise cancellation this product has it all along with its unique feature of having a SharePort. They provide greater range of noise reduction and enable comfortable long wear. SharePort greatly increases compatibility allowing said product to be enjoyed via multiple devices.
Features
Greater volume limitation for high quality
Comfortable with high-quality polycarbonate and soft fabric
Portable, foldable and adjustable
Contains detachable nylon braided cable
Multiple color choices
Environment-friendly
Drawback
Loud volume options can sometimes be uncomfortable and harmful. The product is also expensive.
Product in question has been recommended by multiple customers for great sound quality and accurate sounds. Customer service also provides a wide range of help providing a sense of security for its usage along with its comfortable wear
Snug Kids' Earmuffs – Best Hearing Protection
Comfortable ear protectors for both kids and adults
These headphones might just become your daily used device. For use of both children and adults, said product has enhanced sound control and will bring quietness even in the noisiest of surroundings.
Product in question also has its unique ability to suite children suffering from autism, ADHD and auditory issues.
Features
High quality sound and noise cancellation
Low profile aesthetic design ensuring quality and safety
Lightweight, adjustable and foldable
Portable and travel friendly
Easily affordable with multiple color options
Long term durability
Drawbacks
Not all sound will be canceled. Headband may not be too sturdy.
Reviewed by consumers to satisfy claimed quality and comfort. Recommended for children with special needs by professionals.
Buddy Phones, Volume limiting Kids Headphone
Innovative design and features for kids
Along with exceeding designs and custom made stickers for illustration, said device also has WHO recommended standards of noise cancellations. It is comfortable and compact while being made from non-toxic materials. Increased compatibility with built-in microphone and audio cable provided.
Features
Ideal for children of all ages
Durable with enhanced battery life
Comfortable, adjustable and foldable
Solid compact material to prevent surrounding damage
Dust and water resistant
Travel-friendly with a storage case and warranty provided
Variety of colors to choose from
Drawbacks
Ear cups do not swivel and the sound quality may not be the loudest or most accurate. Also these are not budget friendly.
Customers are satisfied with obtained product being as comfortable and of quality as company claims. They are also very amiable to the use of children.
Noise Cancelling Ear Plugs From Brison
Reusable silicone earplugs for loud sounds
They are unique in design with washable materials to improve hearing and reduce noise level. They can be used in a variety of settings like concerts, festivals, events. These are comfortable to wear and help to reduce stress. They are also compact and adjustable and eco-friendly products.
Features
Ideal design for maximum protection of ears
Has flexible uses
Comfortable with non-toxic silicone material
Portable and easy storage with a provided case
Reusable and prevents irritation
Wide variety of sizes available with different price range
Drawbacks
These cannot be used by children. There might be difficulties in inserting the product into the ears.
Customers are satisfied with the quality and comfort of the product. They are useful in noisy environment and help to provide sound sleep.
How To Pick The Best Noise Canceling Headphones For Your Child
Age
The sound range and size are different for every type of headphones in the market, so it is important to check these factors. This would help to choose the suitable product for the children.
Comfort
These headphones are made with wide variety of designs and materials with the demanded comfort for use in mind. However, not all products will be comfortable to certain users, hence the right design has to be chosen to provide maximum comfort.
Adjustability
The flexibility and size of the headphones needs to be checked so that it is easy for fitting on the child's head. These has to extend with the growth of the children, so it is important to buy adjustable headphones.
Weight
Not only the comfort level, but also the weight of the headphones needs to be checked so that they don't feel bulky. Lightweight headphones are always recommended for children.
Volume control
The volume level should be minimum for the use of children so the headphones need to be volume limited. The functions should also be easily applicable for children's use.
Color
The headphones should be attractive to be used by children. In this case those products are recommended that are designed especially for children with various colors and features.
Material
Products used by children, especially infants and toddlers should be made of non-toxic materials that are safe to use. It is recommended to look for eco-friendly and good quality materials.
Portability
If there is frequent travelling, it is recommended to look for headphones that are small, foldable and easy to store.
Common FAQs by customers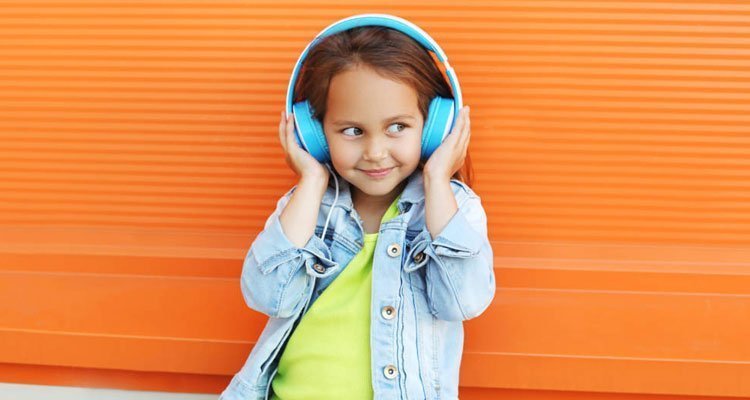 Do noise cancelling headphones block all ambient noise?
Different products have different capabilities of noise cancellation. But it has never been claimed that any headphone can cancel 100% outside noise. They only help to reduce loud noise and improve hearing.
Do noise cancelling headphones run on batteries?
Most noise canceling headphones run on an AA battery which comes with the pair while others are not provided with batteries. These batteries can be replaced with rechargeable ones.
Are there in-ear noise cancelling headphones?
Yes. Though not as common as over ear headphones, in-ear headphones are also manufactured. However, these may not be as effective in cancelling out noise as its over-ear counterparts.
Can noise cancelling be used without playing music?
Products with passive modes allow to use noise cancelling even if the cord isn't connected to any music source.
How does noise cancelling work?
Noise cancelling headphones use digital signal processing technology. An internal microphone listen to outside ambient noise. The different frequencies picked up are then analyzed by the audio processor which then emits frequencies that will cancel out the external sound. This process is called wave displacement.
Is noise cancelling different from noise isolating when it comes to headphones?
Yes. Noise isolating headphones only blocks out sound through the coverage of the ear cups while noise-canceling headphones use an internal microphone to listen to external noises and the audio processor uses sound of opposing frequencies to cancel out the noise.
Are all effective noise canceling headphones expensive?
Most high-quality headphones are more on the high end, but some cheaper ones are also shown to provide impressive results.
Do these headphones work in busy terminals like airports and train stations?
Most headphones are designed to suit in traveling environments and other noisy areas. Some models of also have an additional mode that would allow hearing outside sounds without removing the headphones.
Can noise canceling headphones be used with mobile phones?
Most headphones are designed to be compatible to many devices, including mobile phones. However, not all noise cancelling headphones come with microphones and can't be used on smartphones.
Should I invest in those headphones?
Noise cancelling headphones are a good investment for travelers and people doing noisy activities. They are important for the safety of ears and to improve hearing by preventing damage from loud noise.
Final Words
These headphones are one of those creations of modern technology that you can't live without once you get a taste. The best noise cancelling headphones for kids help them adjust to a better lifestyle. With their unique features and modern designs, these new age devices are specially effective for people with sensory disorders.
This is Pooja. Blessed with two baby girls. A working mom and a part-time blogger. Love cycling with my family and I will never stop exploring.
Playgrounddad.com is my baby and the goal is to help working parents to pick the best baby products within budget.
Connect with me, Find my social channels below.