If you want to spend some quality time in the nature, get a bicycle. It is the perfect vehicle to move through the city and fields feeling the wind, and it also makes for great exercise too!
For kids, there's no other better way to keep them healthy as they perform a fun activity they enjoy.
That's why today we're going through the market to find the best 20 inch bike. Since there are so many choices, narrowing down the list was rather complicated, but we got what we consider are the offers worth considering.
So, if you're looking for the perfect gift for your child, continue reading and find out more about what these incredible bikes have to offer.
20 Inch Bike for What Size Person?
First things first, who gets benefited from a 20 inch bike? Is everyone capable of using it? Are those bikes for 6 to 9 years old only?
Well, you'd be surprised to find out that most people can ride these bikes. So, even if manufacturers promote their product as a youth bike, the final user can be a teenager or adults.
Of course, not every bike is suitable for everyone. Several brands produce their bikes targeting young girls or boys, adding unique colors that may be more appealing to each gender. Naturally, boys wouldn't want to ride what they consider a girl's bike, and girls won't like a boy's bike either.
What do you need to look for in a 20 inch bicycle for it to be usable by people of all ages?
Adjustable handles and seats, for example. Whether you're a tall or a small person, if you can adjust both of those parts, you'll be ready to start pedaling regardless of your age.
If you take a look at the bike offered by Go plus, which we reviewed here, you'll find that this bicycle meets most of these demands. That means that, yes, you can buy it for your children, but you'll be able to use it as well if you're feeling up for a ride.
After clearing the size and age questions, let's take a closer look at what these bikes offer for our children.
Best 20 Inch Bike For Girls and Boys – Reviewed Top Brands in 2022
Our first bike is one that most kids aged six to nine will enjoy without parents having to keep track of them regularly. Since it offers a unisex design, both genders will feel comfortable with it.
For safety, it features the Sure Stop Technology, which is a single brake lever that controls each wheel efficiently. This mechanism stops the bike faster than most others in a secure way, reducing the risks of accidents due to forward-leaning.
When riding the bike, the lightness and steel structure design gives the kids all the control they need for ultimate maneuverability. When the children are taking a break, there's also a kickstand to park their bicycle on the spot.
This bike is so good that it should be every parent's go-to build for their children. Unfortunately, not every kid can ride it, because there's no room for a training option. Riders need to have a certain level of experience, or they can use the bicycle to learn the hard way how to ride it.
Pros
Available in many colors
Perfect control and balance to the children
Sure Stop Tech prevents accidents
Easy to set up
Cons
There's no room for a training wheel
Here's a pick to consider as the perfect gift for girls. There's a combination of many incredible features for the children to enjoy; beautiful colors and even a little purple basket to add that personalized style.
The bike is ideal for girls aged 7 to 9, approximately. When it arrives, despite not including proper instructions, it doesn't take much time to assemble. You can even have your kid with you to have some bonding time as they give you a helping hand.
After putting the parts together, the result is a cruiser bicycle like no other.
Undoubtedly, the reason why this bike is here is because of how balanced it feels. Children have perfect posture as they ride it, with a straight back and comfort above anything else.
This bike could've easily been in our number one position, but it is not as versatile as our previous pick. While boys could ride it perfectly if they wish to do so, the design of this bicycle appeals more to female audiences, while the other one is more of a unisex style build.
Pros
Beautiful colors
It includes a basket
Perfect posture while riding the bike
Doesn't take much effort to assemble it
Cons
The included instructions to assemble the bike are misleading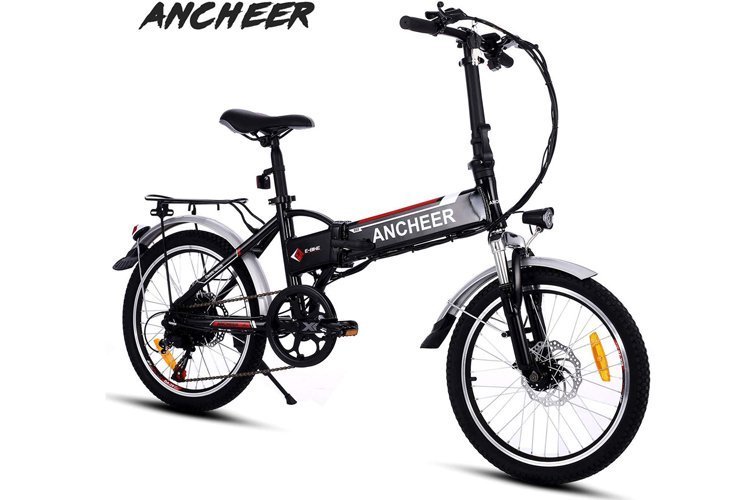 If there's a word to describe this bike, it probably is convenient. The manufacturer uses an aluminum alloy frame that feels surprisingly lightweight. Said weight and structure design allows you to fold it quickly to turn it into a compact bicycle that you can store in a closed space.
But what about its performance? In that area, the bike doesn't disappoint either.
What you need to know about this bike is that it is an electric machine. It uses lithium-ion batteries to power up a 250W motor, which makes it possible to handle and use the shifter gears that offer up to seven speeds.
The lithium-ion battery is removable, and there's a charger included that will help you reach those long distances up to 50 km. You can use the port to charge the battery either on or off the bicycle's frame.
When folding the bike, make sure the headlight doesn't get in the way, as it might turn out to be a mild inconvenience. You need to check the wires regularly as well because they're not durable.
Pros
Aluminum alloy frame
Battery charger included
Foldable bike
It travels long distances per charge
Cons
The headlight/horn could be a problem when folding the bike
Wires are not durable
Unlike the previous pick, this one is more basic, as there is no motor and no batteries either. Instead, it offers a single speed. But even though it looks simple, this bicycle still has a lot to offer. It sure makes the best out of an ordinary build that may not be the best, but it is enough.
The bike is available in a green/black color combination that is very appealing to the eye. It features a comfortable seat, and sturdy frame construction with steel materials to withstand regular use.
After ordering it, the bike arrives quickly, and that's already an appreciation point to the manufacturer. Assembling the parts doesn't take much time; in less than an hour or so, girls will be ready to roll on the streets having the time of their lives.
Now, considering it is a bike aimed at girls, perhaps the weight could be a problem. The build feels heavy, and we can only assume how bad it would be for a young child to carry it around if anything breaks.
Pros
Simple bike that offers single speed
The seat is comfortable
Sturdy frame construction
Good-looking design
Cons
The bike is rather heavy when compared to other options
5) Windsor Rover 2.0 20 Inch Hybrid Bike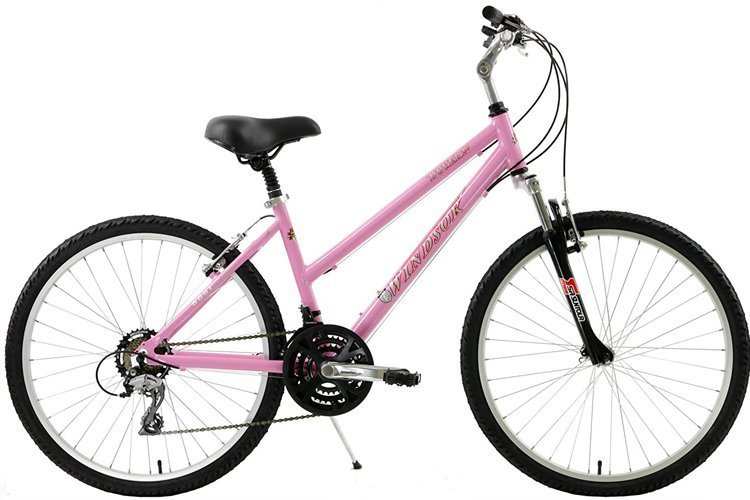 Here's another pick that looks simple from the first impression, but there's so much more than what meets the eye. For one, it is a 21-speed bicycle constructed with high-quality aluminum material that produces a reinforced frame. Because of that, children get a reliable bike that lasts long.
The 21 speeds are easy to go through while riding the bike. And, since the saddle is very comfortable, children won't have trouble using the bike's full capacity with little to no drawback whatsoever. Here, the lightweight qualities of the frame is yet another benefit of riding this bicycle.
Although there are no instructions included, assembling the bike shouldn't be an issue.
Upon receiving it, you'll notice that the bicycle comes preassembled. You have to set up the tire, the handlebars, and a couple of other parts, which is a process that shouldn't consume much time. Make sure to check the brakes to make adjustments if necessary. The same goes for the derailleur.
The lack of proper instructions is the one drawback. Other than that, nothing is frustrating about this bike.
Pros
Simple look, but efficient performance
It rolls on 21 speeds!
Quality materials for the construction
Easy to assemble
Cons
There are no assembling instructions included
Shop now at Amazon.com
6) HASA 2018 Kids Mountain Bike 20 Inch
This bike leaves behind casual riding and focuses more on the competitive scene. It offers 18 speeds, with a high-quality alloy frame, and a 20-inch set of wheels. All of these parts create an outstanding bicycle assembly that earns its spot in every list out there.
In reality, there aren't many builds that deliver the same performance of this bike while being lightweight.
Most of the other similar bikes feel too heavy, but this one is a clear exception to that rule. Pedalling requires little effort, and the chainring located at the front allows children to push and ride the bike easily.
Also, despite 18 speeds not being the largest capacity out there, it is far more than other kid bikes. This bicycle offer that extra speed that most children will appreciate, all of which under a pretty safe performance.
Nonetheless, there's something to keep in mind; if your kid has small hands, it may be complicated for them to shift. Another issue is that they won't be able to reach the brake levers.
Pros
Perfect bike for competitions
High-quality alloy frame
Not too heavy
Cons
Children with small hands may have a hard time shifting and reaching the brakes
Shop now at Amazon.com
7) Speedrid Electric 20 Inch Mountain Bike 2019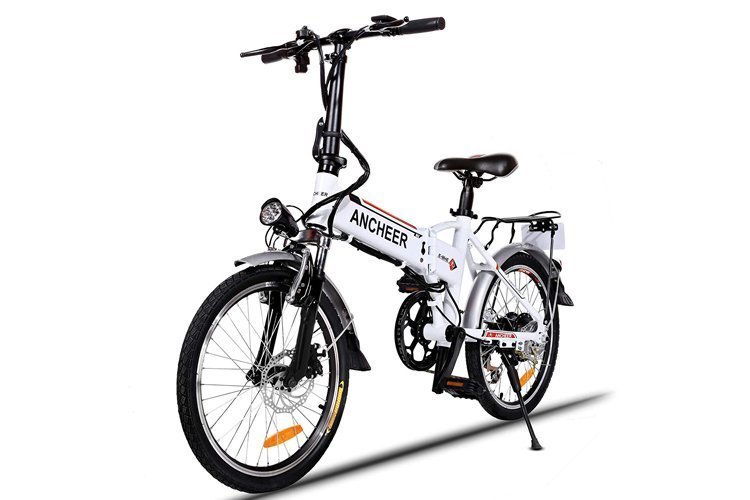 If you liked the motorized bicycle a couple of spots ago, here's another pick that delivers similar performance.
There's no much variation in the lithium-ion battery power source, but this bike manages to offer some differences, like two riding modes, E-Bike and Assisted Bicycling. Not only can you use this build to travel long distances putting barely any effort, but you can also use it for exercise.
Naturally, if you don't want any of that, you can use it as a normal bike instead. The 21 speeds, combined with an effective brake system, increase the bike's power to ride most types of terrains safely.
For instance, when you ride it over inclined surfaces like hills, the disc brake provides more control for quick stops.
Like some of the other bikes on our list, this one is foldable too. It is a build very convenient if your children like to visit family or friend's houses riding their bicycles, and they need to store it once they get to their destination.
There aren't many disadvantages of using this bike other than, well, paying its high price. However, since you receive a high-quality motorized bicycle, paying the extra money is worth it.
Pros
Three riding methods: E-Bike, Assisted, and as a normal bike
Foldable & lightweight
Up to 21 speeds
Cons
This bike is available at a high price
Shop now at Amazon.com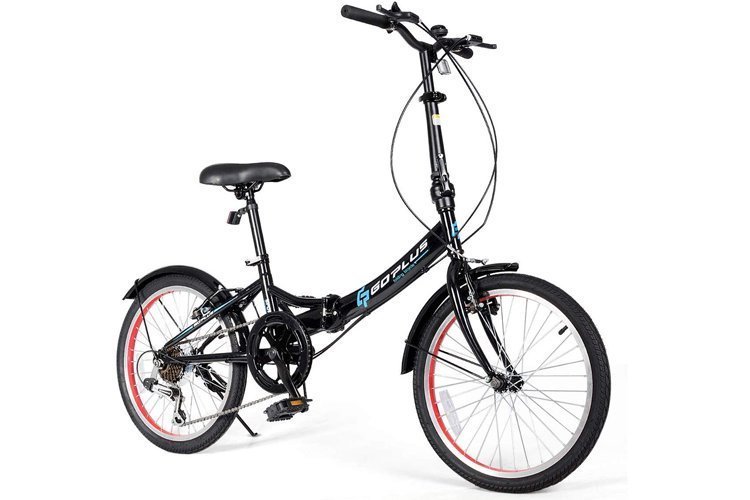 Perhaps not every kid will like this bike, and that's good! You can get it for your child as an excuse, and later use it for yourself. The building of this bicycle allows everyone to ride it comfortably, from children to adults. Regardless of age, it is a proper vehicle suitable for exercise.
The build features an iron frame, which is both durable and strong. You'll be capable of using it for a long time, maneuvering through the seven speeds easily; thanks to the shifting handle.
When you go for a ride, the ergonomic handle prevents slipping, which helps to relieve any discomfort you may face.
Also, the bike is foldable! After finishing your routine, you get to fold it to turn it into a compact unit that you can carry around easily. This process is not too complicated, as it only takes a couple of steps.
There are a couple of things that people may not like, though. The pedals don't feel too comfortable, and the wheels, for some reason, seem smaller than other similar builds. Still, that doesn't make it less fun to ride this bike.
Pros
Suitable for people of all ages
Foldable design
Adjustable handle and seat
Easy to assemble
Changing between the seven speeds is very intuitive
Cons
The pedals are not that comfortable
Small wheels
9) Elite Destro 20 Inch BMX Bike
We're finishing off with a BMX bike because, you know, sometimes you just got to let your child run free and make their mistakes. This bicycle assembly comes available in eight different color combinations, and you can use all of them under different terrains like concrete, dirt, or at the park.
For its construction, there is nothing but quality pieces: Hi-tensile steel, an alloy frame, and a Tektro alloy set of brakes, to name a few of the most important parts.
Perhaps the most surprising fact about this bike is how resistant it is, as it withstands people's weight even when they're a bit heavy.
The bike is the perfect choice for boys that want to go on new adventures with a durable bike. However, the build is far from perfect: for one, the chain is too long, skipping teeth regularly and falling off. Replacing it is a good idea.
Also, make sure to check the brakes before first use, as they may not be set up properly when the bike arrives.
Pros
Available in different colors
Durable & resistant
Comfortable 20×2.4-inch tires
Tektro brakes
Compatible with concrete, dirt, and grass
Cons
The chain is too large
Brakes don't come properly set up
Shop now at Amazon.com
Related read: Kids 16-inch bike – 9 great bikes to check
Buyer's Guide: How To Pick The Perfect Twenty Inch Bike?

To find the best 20 inch bike, we need to consider a set of essential features that the build must provide. Here, we're going to discuss them.
Keep in mind that, even if we make some recommendations, not every bike offers the same features. Ultimately, it is your choice to decide which one suits your demands better.
Quality Construction Frame
Since it is the base that holds everything together, you'll want to get a frame made with the highest quality materials. In most cases, you'll find that 20 inch bikes feature an aluminum alloy construction, which has proven to be very good and reliable under any circumstances.
It is a material that lasts for a long time, as it is highly resistant to impacts. That's an advantage if we consider that children will most likely fall a lot before they master their technique of riding these bikes.
Efficient Brakes
The brakes are essential if you care for your child at all. They tend to go way past their own limitations, thinking they will be able to handle it, but sometimes that is not the case. We're not going to be there to stop them every time, so having quality brakes will save you a lot of trouble.
Here, we have to mention how efficient the SureStop technology from Guardian Bikes is. It is an ideal mechanism that controls the bike's brakes, delivering a sudden but safe stop as soon as the children press it.
From other brands, the dual-disc brake design is another efficient method worth considering.
Girl or Boy Bike?
During our reviews, we made an emphasis on which bikes are most suitable for each gender, considering stuff like the color designs, additional accessories, among other things.
Since every child is different, it would be better to leave them to decide which bike they'll want. However, pick a list of options first to diminish any possible risk of the kid choosing an overpriced bicycle.
Motorized vs No Motor
An incredible achievement of modern technology is how far bikes have come, to the point that brands produce motorized builds that need a battery to operate.
These bikes are not for everyone, of course. Some people prefer a bicycle without a motor as it feels more natural, and it also helps to keep us healthy by requiring some effort as we push our way pedaling.
Fortunately, if you get a motorized bike, you'll still be able to use it as a simple transport unit nonetheless. If anything, the option to move through the city automatically is a convenient possibility to have at our disposal when we feel tired.
Frequently Asked Questions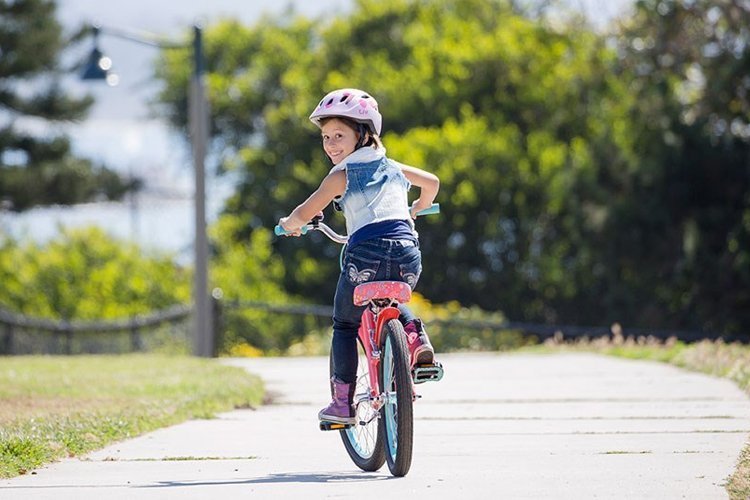 Q) Is a 20-inch bike too big for a 6-year-old?
No. 6 years old will fit perfectly over these bikes, as they are the main audience for manufacturers that produce these builds.
Q) What height for the bike?
For children, the standard height if they want to use these bikes would be between 4'5" to 4'9". Of course, as we covered before, the size could vary if the bike has adjustable parts.
Q) Is there a bike with training wheels?
Yes, you can install training wheels over some 20 inch bikes. Not all of them are compatible, so make sure to know if the one your child likes can fit this part.
Q) Is 20 inch bike adjustable?
Yes, most of the bikes are adjustable. You can set parts like the seat of the handle to the perfect height to make the riding more pleasant and comfortable.
Q) Is the electric 20 inch bike good?
Yes, they are. The lithium-ion battery allows you to cover plenty of ground in a quick time, and you can also get rid of the motorized performance and use it as a normal bike instead if that's what you want.
Conclusion
Finding the best 20-inch bike may take some time, but boy is it rewarding once you get it! There are many reasons why a lot of people prefer bikes instead of any other transportation method.
For children, in particular, having a bike is an essential part of their childhood, as it allows them to make some of the greatest memories they will never forget.
Take your time considering all of the options and then make your decision. It is not an exaggeration to say your child will never forget this wonderful gift.
Next read: Holiday ideas with kids
This is Pooja. Blessed with two baby girls. A working mom and a part-time blogger. Love cycling with my family and I will never stop exploring.
Playgrounddad.com is my baby and the goal is to help working parents to pick the best baby products within budget.
Connect with me, Find my social channels below.