Can't decide which 16-inch bike is best for your kid?
Well, choosing your kid's first bike is a very big decision. You have to keep in mind the specifications, height, weight, and most importantly safety. There are tons of factors to consider.
Well, no need to sweat! We have researched and analyzed it on behalf of you. This article has all the information you need to know before buying your kids' very first bike. The best 16-inch bike is the one that fits your criteria.
We have specified the noteworthy features of these bikes to make it easier for you to choose.
Our Picks (The Winners): Comparison Table For The Top 16 Inch Kids Bike
| Categories | Chosen Bikes | Features |
| --- | --- | --- |
| Best Quality | Guardian Kids Bikes Ethos | Sure Stop Braking System, Traction Tires, Unisex, Lightweight |
| Best Value Bike | RoyalBaby Freestyle Kids Bike | Affordable, Secured pedals and grip, Unisex |
| Best Folding Bike | Ancheer Electric Folding Bike | Great mileage, Good value, One year warranty lighter than most e-bikes |
| Best stylish Bike | Yamaha Moto BMX Bike | Moto-head styled, Sturdy, No gear, Refurbished |
16-inch bikes: What age are they appropriate for?
A kid's first bike is special and memorable for the rest of their lives. It is important to choose the right size bike to make the learning easier and intuitive. It should be lightweight and simple to handle with kid-size pedals and other specs.
Most kids start riding at about 4 years old, and the generally small 16-inch wheel is the most suitable for this age. And this size is perfect for growing into approximately the age of 7 to 8. That is why it is a favorable size for your child's first bike.
Additional read: Best 20 inch bikes
Best 16 Inch Bike Reviews – Cheap Yet Good Bicycles For Girls and Boys

Sure stop technology

30 days trial period and lifetime frame

Frame Material: Steel

Traction Tires

34 point safety check

Weight: 20 pounds

Unisex Design

Age Range: 4-6 years old
Guardian Kids Bikes stands out from all the other options for its proprietory braking system called "Sure Stop Technology". The advantage of this technology is that it makes possible to control both front and rear brakes with only one brake lever by brilliantly distributing pressure on both wheels simultaneously.
One of the most common hazards of bikes is while at high speed, using only the front brake can cause it to lean dangerously forward and throwing off the kid over the handlebars.
Sure-Stop brakes are 44% more efficient in stopping and reducing the risk of head over handlebars accidents. For this feature, it is considered the safest choice.
This specific model of Guardian is made of steel making it very light for kids' comfort. It is constructed according to kids body proportion. The structure of the body is designed specially so that the weight is centered in the middle. It provides more balance and stability making it one of the best 16-inch bikes.
Every guardian comes with 30 days trial period, giving you the opportunity to return it if you don't like it, It also gives you lifetime frame assurance. The tool is included in the box and assembling the bike is very simple.
This 16 inch bicycle is suitable for both girls and boys with a height of 40"- 46". It is best for children of 4-6 years old.
Shop now at Amazon.com
Steel Frame

SmartStart Frame

Saddle Handle

Child Specific Geometry

Limited Lifetime Warranty

Narrower Pedals

Age Range: 3-5 years old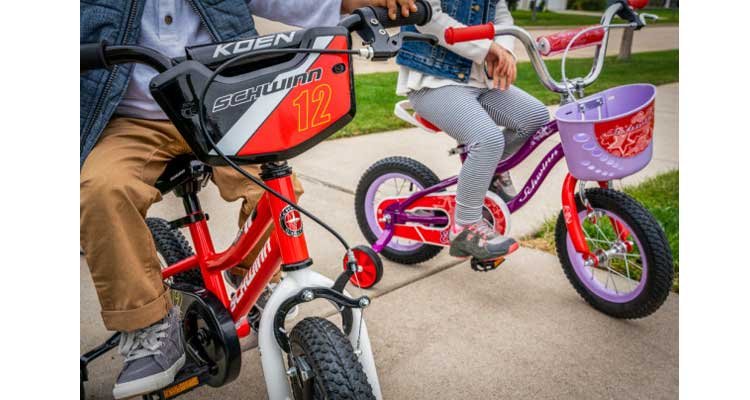 SmartStart frame represents specialized redesign for bikes. It means the bike is geometrically designed to better match with a child's body. It adds extra balance while paddling and holds a center weight so that it does not wobble, making it a fitting riding position.
The body is made of steel which makes the light – consequently easier for kids to navigate. The lighter body adds more balance and control. It has a smaller grip diameter to match the smaller hands of children. For a similar result, it also has new narrower pedals.
It comes with training wheels for children who are new to cycling. The seat includes a saddle handle. The handle is quite effective as you hold on to it to steady the bike for the first ride of your kid. The saddle handle also comes in handy to tow the bike or hang it in the storage.
Most bikes this cheap do not come with hand brakes. But this one comes with both a rear coaster brake and a front caliper brake. Despite its fascinating braking system, it's not flawless. Some reviews claim that while the coaster brake worked perfectly, the front hand brake was difficult to regulate and it felt finicky.
This bike is designed for boys of 3 to 5 years old. The fitting height for this particular bike is approximately 38 to 48 inches.
Weight: 22 pounds

Sturdy Steel Frame

4-inch Royalbaby fat tire

95% assembled

front caliper brake and rear coaster brake

Adjustable Seat

Unisex Design

Age Range: 3-4 years old
If you're looking for a cool-designed bike and also want it to be safe and secure then RoyalBaby is one of the top choices. The frame is steel forked makes it sturdy enough to ensure a long lifetime. It can endure rough usage and heavy-duty.
It has non-slip resin pedals that make sure of kid's secure footing so that they don't slip and have any accidents.
The combo of front caliper brake and rear coaster brake ensures a safe stoppage and helps children learn to transition to hand. The rubber grips are very stern and non-slippery. It has a star design on the grip to make it more likable amongst children.
RoyalBaby bikes come with fine-tuned training wheels that are constructed to reduce noises so kids can concentrate more on the street and ride safely. It also comes with a Water bottle, cage, bell, and assembly tools.
This bike can be a bit heavy and difficult for some kids. Aside from that, it is a pretty cool first choice.
This bicycle is fitting for both boys and girls of 3 to 4 years old.
New Schwinn Smart Start geometry

Rear coaster brake and front hand brake

Full coverage chain guard

Narrow kid-specific pedal

Adjustable seat

Material: Steel

Weight: 21.6 pounds without training wheels

Age Range: 3-7 years old
Schwinn Scorch Boy's Bike is one of the best amongst economical bike line up. New Schwinn Smart Start geometry offers its customers the perfect fit. This brings in more stability and control over the bike.
The rear coaster brake and front hand brake are combined together for the support of powerful braking. It makes it easier to shift to adult hand brakes. Although it has gotten some complaints about the front brake being a little.
This bike also comes with a full-coverage chain guard which protects the young rider's little hands and feet.
This bike 'has versatile features for the children offering easy riding. It has a narrow pedal position specialized for kids' hip size. This not only fits their body but also makes it easy for the children to pedal.
The seat post is a tool-free adjustable one that enables a child to grow as kids tend to develop physically by bike-riding. Moreover, this includes training wheels which actually help your child learn how to ride a bike smoothly.
This particular bike is made for boys. The fitting age for this bike is 3 to 7 years. The average height for this should be 38" to 48"
Hand-built steel frame

95% already assembled

Front caliper brake and rear coaster brake

Weight: 20 pounds

Unisex Design

Age Range: 3-7 years old
Retrospec Koda has a hand-built steel frame. It is strong enough to withstand any learning curve. It has a one-piece crank. The chain is guarded entirely in order to prevent any accidents. The saddle is also curved in the back so kids do not fall off.
It has wide grippy tires so that it can have complete control and keep balance while riding over sidewalks, driveways, and cul de sacs. This feature also makes it sporty and allows kids to speed off to the races.
The combined brakes of the front caliper and rear coaster are very popular among children's bicycles. This adds total control over when to stop and how quickly.
You can choose from a vast array of colors. It also comes with shiny streamers and baskets for girls, and Retrospec's own water bottles and holders for boys.
This bike is already 95% assembled in the package. If you are in a hurry, no need to worry. It's easy to put together the rest of the bike.
This bicycle is designed for both girls and boys of 3-7 years old. Their fitting height should be 35″ – 47".
Steel Frame

The Front & rear hand V-Brake plus coaster/foot brake

125 inch wide tires

Wider footrest

Adjustable Saddle and handlebar

95% SKD

Unisex Design

Weight: 21.4 pounds

Age Range: 4-8 years old
The sturdy steel frame makes the bike not only sustainable but also lighter than other materials used by the bike. This helps children to move, turn, and carry the bike.
This bike uses V-Brake for both front and rear with an added coaster or foot brake. They provide enough friction to stop smoothly and securely. Keeping children in mind they are made to be quite easy and intuitive to use.
Coeeske designs bikes for both boys and girls. Their unisex frame is unique and very attractive.
It has 2.125 inch wide tires with extra-thick rubber preventing any chance of damage and leakage. It also ensures to prevent threatening bursting of tires.
The footrest of this bike is wider than typical kids' bikes. Wider pedals allow kids to save effort and energy assuring a tireless ride.
The chain guard is fully enclosed keeping children safe from getting their fingers tangled in it and the flanged grip is designed to prevent the hand from slipping off the handles.
This bike is 95% semi-knocked down. The tools required to assemble come with the package.
This bike is fitting for children of 4 to 8 years old. The range of height should be 40-54 inches.
FIIDO Folding Electric Bicycle
Folding E-bike

Frame Material: Aluminum Alloy

Weight: 43 pounds

Dual-disc brakes

6-speed gear

250W motor

Age Range: Adults and teenager
Of all the bikes in this article, Fido's electronic bike is probably the most eye-catching. It is uniquely designed for both genders' comfort with adjustable seats. The body is made of high tolerant aluminum alloy. Aluminum not only makes the frame lighter it is also rustproof ensuring longevity. The tires are shock absorbant which makes it possible to have a smooth off-road ride.
In order to increase the usage of environment-friendly bikes instead of cars, Fido focuses on making their bike easy to carry through its foldable feature. It is easy to lift and store in the back of your car or in the little corner of your room.
The biggest hidden gem of this bike is its 250W high-magnification brushless motor and a 36V 7.8 AH built-in lithium battery. The charging can take a bit of time. But it can ride up to 50km in full battery. Both of them increase their climbing ability. The maximum speed it can reach is 25km/h.
It has three riding modes and six speeding gears. One can choose between full electronic mode, assisted mode, and manual pedal mode.
The dual disc brakes in both wheels is an innovative technology adopted by Fido. The braking system is very smooth and sufficient.
This bike is bulkier than most bikes and suitable for teenagers and adults.
ANCHEER Folding Electric Bike – 16 Inch Collapsible Electric Commuter Bike
Collapsible Frame

Frame: High-strength carbon steel

Removable 36V 8Ah Lithium-Ion battery

Machine front and rear disc brakes

2 working modes

One-year warranty

85% assembled

Weight: 37 pounds
The collapsible feature allows customers to easily fold the mainframe so that it can be carried anywhere. It has folding pedals and integrated bells. It can be folded and packed in just a moment.
The material used for making the bike is high-strength carbon steel. Steel makes it lighter and the carbon combination makes it tolerant of outside pressure or scratches.
It has a removable 36V 8Ah Lithium-Ion battery. It takes almost up to 4 to 6 hours to fully charge. The battery can be recharged both on and off the bike as you wish. The bike can go on 15 to 30 miles on one charge. The motor used in this is 250W high-speed brushless gear motor.
It has disc brakes for both front and rear wheels. The brakes are sturdy enough to be effective in al weather. The collapsible medal is made of aluminum alloy. The working modes are E-bike and Assisted Bicycle.
Just put in the key and press the start button and you are good to go.
Shop now at Amazon.com
FOUJOY Kids Bike – With Training Wheels and Basket Gentle Style
Premium steel frame

2.125-inch inflatable rubber

Adjustable saddle and handlebar

Age Range: 4- 10 years old

95% assembled

Unisex Design

Front and rear hand brake system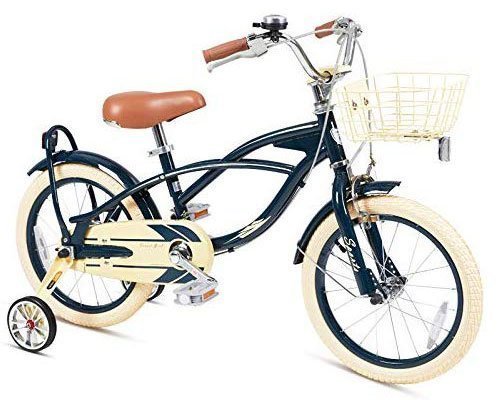 Foujoy makes kids bike both fun and safe. The rustic-looking body is made of premium steel. The solid steel frame is made tough enough to tolerate the bumps of learning.
The inflatable tire dampens the ups and downs of an uneven road. The fender attached prevents the splashing of mud or dirt onto kids' bodies.
It has an adjustable seat and handlebars so kids can grow up with the bike and don't need to buy a new one when their height increases. It also has a detachable basket.
The bike adds front and back reflectors to ensure safety for riding at night. It comes with training wheels for new learners and a fully enclosed chain guard.
It comes 95% assembled. The only things that need to be adjusted are the pedal, handlebar, bike seat, and training wheels and pump up the tires.
This particular bike is fitting of 4 to 10 years old.
Age Range: 4-7 years old

Weight: 25 pounds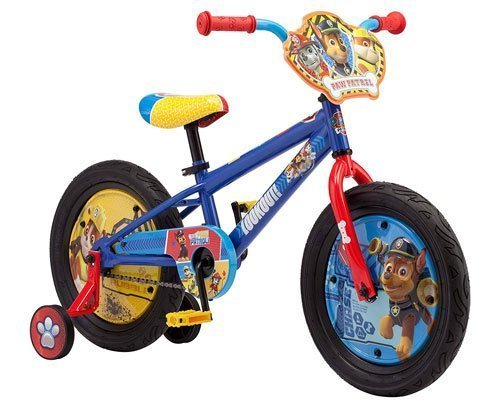 Nickelodeon presents a bi-cycle design full of kid-friendly paw patrol cartoons. This bike is eye-catching for kids. They love it at first sight.
Aside from kids' favorite design arts, it is built with low, stand-over durable steel which makes it strong, long-sustained, and easier to control. The foot brake adds more control for the kid when stopping.
The chain guard protects kids from unnecessary cuts and pain. It comes with training wheels so that children can learn to ride their first bike.
The whole bike is paw patrol themed including laser-printed seat, chain guard and rubble, chase, and marshal wheel covers,
This is suitable for kids aged around  4 to 7.
Steel oversized Frame

Refurbished

Inspected and Certified

standard size pedals

A minimum of 90 days warranty

motocross-style fenders

No gears
Look-wise this is the coolest bike for moto-heads kids. Your kids will love the authentic Yamaha graphics and a motocross saddle seat that makes it so stylish.
This refurbished product had to go through functionality testing, basic cleaning, inspection, and repackaging in order to get certified. It is redesigned and cleaned to make it look like a brand new product.
This bike comes with at least 90 days warranty so if you have any problem with it Yamaha is there to fix it for you. It also arrives in a generic box.
It's most eye-catching feature is its motorbike-styled design. It has motocross-style fenders with generic Yamaha graphics and a motocross saddle seat that adds to its beauty which earns a place in the best 16-inch bike top lists.
The material used for the frame is steel. The pedals are standardized. However, it does not have any gears to maintain its simple structure.it also comes with training wheels.
This bike is preferable for boys of 8 to 12 years old.
Read next: Parenting lesson from a sports dad
Buyers' guide: How To Pick Your Kid's Dream Bike
There are several factors that you should calculate for choosing the perfect bike for your children.
Height:
Of all the factors height is the most important thing to consider while choosing a bike. A bike must be complementary to the child's height. Too big ones would be uncomfortable and unsafe. Too small ones would have little leg space between handlebars and knees which would be awkward.
Weight:
A kid's bike should be lightweight enough to easily turn and change direction. A general rule of thumb is a bike should not be 30% more of their body weight.
Frame Material:
Most bikes are made of aluminum and steel. Both are used for its lightweight quality. To gain a terrific strength to weight ratio, it is better to choose an aluminum bicycle frame. Carbon-based steel is easier to make and probably be cheaper.
Brakes:
Coaster brakes are more common in 16-inch bikes. Coaster bikes are used for their ability to safely slow down and are easier to handle for a kid.
Price:
Typically expensive bikes tend to be better. The more the price, the more the specs it should have. Also, they are usually lightweight because of the material used for the frame. There is also a wide array of cheap bikes to choose from which does not differ much from the expensive ones.
Final Words
Every bike mentioned in this article is handpicked for its superiority. A kid's first bike should be comfortable to handle, safe, and obviously cool. Each bike has its own significance. However, if we have to choose only one, then Guardian Kids Bikes Ethos is our top pick for the best 16-inch bike. Its SureStop technology and amazing lightweight design make it stand apart from all the bikes.
This is Pooja. Blessed with two baby girls. A working mom and a part-time blogger. Love cycling with my family and I will never stop exploring.
Playgrounddad.com is my baby and the goal is to help working parents to pick the best baby products within budget.
Connect with me, Find my social channels below.