Playgrounddad.com is reader-supported. When you purchase through our links we earn a little commission (at no extra cost to you). This helps us to continue the research. As an Amazon Associate, I earn from qualifying purchases.
Note:

Before you dig in, note that most of the products we're going to review in this article are targeted at kids aged 6 to 10 years old. Some of these smartwatches can be suitable for pre-teens. 
Smartwatches are nowadays a highly popular gadget among kids and teenagers. Given the tracking utility they provide, more and more parents are buying their kids smartwatches as a safety measure.
Typically parents look for the best smartwatch with a GPS system so that they can be informed about their kid's location and keep them safe.
Smartwatches are equipped with many useful features and fun apps. Nowadays most smartwatches come with fitness guides, weather apps, music, games, and many more.
But a smartwatch can do so much more than that with smartphone-like features and apps. Parents who are hesitant to give their kids smartphones just yet can safely provide them with a smartwatch. But they're often confused as to which would be the best?
In this article, we're going to review some of the top kids smartwatch models in every budget that you can get for your child.
Best Smartwatch For 10 Year Old

Specifications
Brand:                          TicTalk 

Color:                           Black

Dimensions:                6.7 x 5.1 x 0.9 inches

Weight:                        8.8 ounces
Has wifi connectivity 

Has quality messaging and video calling features. Messaging has preset texts to use 

Built in with real time locator that uses 4G for better response 

Equipped with IP67 water resistant technology for waterproof uses 

The band is customizable and replaceable 
TickTalk 3 Unlocked 4G LTE is also called a universal kid smart watch phone as it is very easy for kids to use universally. The smartwatch is very good at communicating. The interface, softwares and applications are simple and smooth to use. The smartwatch is waterproof and has great safety measures. Despite having a simplistic yet great design, the smartwatch seems plastic-y and bulky. But it is lightweight to wear and the thick plastic is durable.
It has a shorter battery life compared to the other models in this article. The softwares could use a little improvement. But it gets the job done well in terms of features. 
Overall, this smartwatch is a very good choice if you want to feel connected with your kids and communicate with them remotely. 
Specifications
Brand:                       Vtech 

Color:                        Black

Dimensions:             8.9 x 0.7 x 1.8 inches     

Weight:                     7.7 Ounces 
Comes with 2 cameras which allow capturing both still images and videos

Has a stylish design and comes with both digital and analog watch system 

The smartwatch is waterproof 

Offers simple and fun applications for kids including games 

Built in with motion sensor for tracking steps and other activities and offers a cool sound effect 

Can connect online for uploading photos and videos

Downloadable apps and games are available
The VTech kidizoom Smartwatch is a remarkable product as it offers several exciting features under such a low price tag. Its stylish design may instantly hook kids and teenagers and the smartwatch is aimed specifically at 4 to 12 years old. 
The smartwatch comes with some exciting apps and games. Besides the default apps it comes with, you can download a range of additional apps from this smartwatch. It also sports dual cameras that you can use to take pictures and videos. You can upload these images and recordings using the smartwatch as well. 
If you're looking for a smartwatch that not only provides safety functions but also keeps your child happy and occupied, this is a worthwhile option.
This smartwatch comes in many color variants that would surely appeal to kids. Although it does come with some great features and apps, not having a GPS tracker is a dealbreaker for some. Other than that, this is a rather well-rounded kids' smartwatch with great value for money.
Specifications 
Brand:               Little Tikes

Weight:             11 ounces

Dimensions:     

2.75 x 5.4 x 11 inches

Battery:             Lithium polymer battery
Dual camera

512 MB memory chip

Basic functions include clock, calendar and reminder 

Features several games including an AR game

Wireless connectivity 

Splashproof

Features a motion sensor
Check this awesome video,
This Little Tike watch is plenty of fun for the little ones. It has some great multimedia features to keep your child entertained. The watch face can be customized or chosen from one of the many preloaded ones. It is not just an accessory kids can easily get bored of. 
The smartwatch features two cameras and supports video recording. There are some goofy photo editing options too like stickers and stamps that kids this age would surely enjoy. The smartwatch equips a decent sized memory chip to store these multimedia contents. 
The smartwatch can be paired with nearby devices using wireless connectivity. Once connected, your child can send and receive photos, text or voice messages. The wristband is durable. The watch itself is splashproof. It will withstand a fair amount of abuse. 
The Little Tike smartwatch is whimsical and very appealing and responsive to its user. The preloaded games have some learning material embedded in them which aids in a child's mental and cognitive development. The battery life can last up to 5 days. 
Specifications 
Brand:                  Garmin

Dimensions:         2*0.8*2

Display Type:       LCD

Color:                   Real Flower
Comes with a companion app that runs on both Android and IOS

Battery life up to 1 year without any charging 

Tracks sleep cycle and step counts

Water resistant 
This Garmin fitness tracker is a fun way to keep your kids motivated and make sure they have at least 60 minutes of physical play time. It can set timers to remind your kids when a task is due. But wait a minute. An alarm clock can do that, right? Why bother with this fitness tracker at all? 
Glad you asked! This Garmin activity tracker helps get your kids moving and improves their time management. Beyond that, it can be an exciting tool to aid your parental responsibilities.
It comes with a free companion app that you install on your smartphone. You can assign preloaded chores to your kid, like walking the dog and washing the car. When your kid completes a chore, an adventure quest game is unlocked. They also earn coins and badges for completing the chores. This keeps things interesting for both the child and parent. You can add personalized tasks to this system if need be. 
This fitness tracker looks gorgeous and is very durable. There is no hassle of charging. If keeping your child physically active and healthy is your goal, this watch is a pretty cool way to go about it.
Specifications 
Brand:             INUIPO

Battery life:     3 to 5 days

Network:         2G
Supports one sim card (nano)

SOS feature for emergencies

Includes learning games 

Features a camera and music player 

Provides 5 languages to choose from in case your kid hasn't mastered English as a second language yet
The makers of this smartwatch put a lot of thought behind the convenience of this thing. You can track your child's location to ensure their safety.  The watch can save up to 10 contacts and make calls using a nano sim card. The SOS function notifies family members in cases of emergencies. In our opinion, this watch does put our parental safety concerns first. 
But it also provides plenty of entertaining features for kids. They can play multiple games, 7 preloaded ones to be exact. Some of these games are learning games that help children learn counting, alphabets and many more in a fun way. It also has a 'do not disturb' mode for when they need to concentrate on school work and chores. 
It's a grown-up looking watch with a big touch screen and a camera on top. The screen is very responsive and easy to read. It comes with a charger as well. 
The watch can double as a fitness tracker, since it has a step counter and heart rate monitor. All in all, this smartwatch packs a lot of desirable features under a teeny tiny price tag. 
Specifications 
Brand:                 PROGRACE

Camera:              0.3 megapixel

Connectivity:      Bluetooth
90 degree rotatable camera 

Supports up to 32GB of external memory

FM radio and music player

Sports a 3.5mm audio jack

Fitness features 

Up to four games
The Prograce smartwatch has several amazing selling points including the 90 degree rotatable camera and audio jack. The rotatable design of the camera allows kids to take both pictures and selfies using the same lens. However, the camera isn't too fancy at just 0.3 megapixels. 
Since the smartwatch also offers FM radio and mp3 music playing, the audio jack for earphones is super convenient. It has some games as well that can keep the kids occupied and entertained. It comes with some fitness features like a pedometer, calorie counter and heart rate tracker.
The battery life isn't up to the mark when compared with the other models we've reviewed in this article. However, it lasts up to a day and a charger comes included in the package.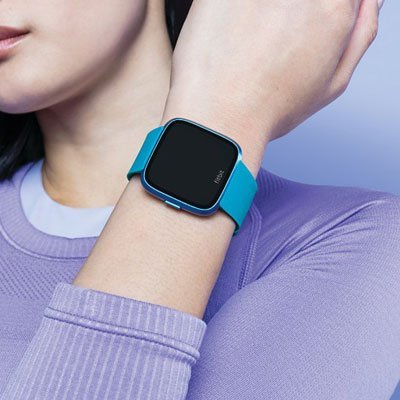 Specifications
Brand:                         Fitbit

Edition:                       Lite 

Dimensions:               1.94 x 4 x 8.9 inches 

Weight:                       1.41 ounces 
Features
Daily activities and sleep tracker mode is available

Has up to 15+ exercise modes for recording workouts 

Can connect to smartphone GPS 

Has many accessible apps like weather, calendar, reminder, caller etc 

Has a stylish and

waterproof

design 

Equipped with female health tracking app which alerts to periods, symptoms and more
The lite design and version of Fitbit versa is recognizable for its simplistic design and low price. The smartwatch has a smooth but simple user interface. Kids should have no trouble getting around the ins and outs of this smartwatch. It has a basic set of applications and features. 
From such a low price point, however, it offers some impressive features that would justify its purchase without a doubt. For instance, the smartwatch being waterproof could be a great fit for sporty and active kids.  The female health tracking app could prove very useful for female children or pre-teens approaching puberty.
Once you buy the watch, make sure to get the apps updated. The smartwatch lacks wifi connectivity which is a big drawback. Overall, if you want a basic, comfortable smartwatch in an affordable range, the Fitbit Versa Lite edition is a great choice.
08) Verizon Gizmowatch - Recommended for 6 to 10 year old
Specifications
Brand:                        Verizon 

Dimensions:              0.6 x 1.85 x 1.65 inches

Weight:                      6.9 Ounces 

Os:                              Android and IOS 

Color:                         Blue 
Has GPS locator and connectivity with smartphone 

Has 4g connectivity 

Features 2 way voice call system and up to 10 contacts saving  

Built in with basic and fitness related applications 

Monthly network service plan 
Verizon's Gizmowatch is a smartwatch designed specifically for kids. Its real time locator will track the smartwatch at any given time. So, you will have no hassle tracking your kids. The 2 way voice calling is appraisable. Parents can easily communicate via texts too. The theme and design of the smartwatch is fun and kid-friendly. 
Although the smartwatch has its fair share of apps and fitness tracking reminders, it lacks entertainment features. The smartwatch has no wifi connectivity and instead relies on 4G LTE monthly plan connectivity which may cost more than a stable wifi service. Nonetheless, the Verizon Gizmowatch can be a handy smart accessory for you and your kid to have. 

Specifications
Brand:                     iGPS 

Color:                     Dark Blue 

Weight:                  7.6 ounces 
Includes Sim card usage service 

Has real time tracking GPS system 

Included with two way communication system through voice calling and texting 

The watch is compatible with both Android and IOS 

Has exciting apps and features for kids 

Needs to connect with an igps monthly subscription for connectivity
The iGPS Wizard SmartWatch is designed specifically for kids. It has a real time GPS locator and also sends notifications whenever the smartwatch is removed. It sends alerts and notifications when the battery is about to die or the kid is too far away. 
The design is waterproof and very kid-friendly.  The smartwatch has an eavesdropping feature so that parents can have more awareness of their kid's surroundings while they're away.
The igps is an excellent safety measure for kids as a smartwatch. However, there have been reports suggesting bugs in some of its apps. For a mid-range model, its user interface isn't as seamless as it should be. The setup process is comparatively slow. But if you prioritize safety features the most, this smartwatch is worth considering.             
Specifications
Brand:                      YAMAY  

Color:                       Black 

Screen:                     1.3″ TFT LCD color screen 

Charge time:             2 hours 
Equipped with many fitness applications and features 

Up to 7-8 days of battery life 

IP68 water resistant design 

Tracks step count, heart rates and gives feedback 

Can be connected to Smartphone GPS 

Compatible with android and ios devices 

Comes with many apps and activities like health tracker, heart monitor, vibration alarms and reminders, music controller etc 
The YAMAY Smartwatch is designed extensively for fitness and triathlon uses. If your kids like to partake in fitness activities that need tracking and monitoring and guidelines then this smartwatch will definitely be helpful. It is way cheaper than most smartwatches out there. 
The smartwatch has an exceptional battery life of 7 to 8 days. However, it is mainly fitness focused. So if your kid wants something for entertainment purposes, it might not be the best fit. It comes with a great battery life and water resistant build. If you need to make sure your kid is always in good shape, it's a great budget-friendly smartwatch with excellent fitness tracking ability.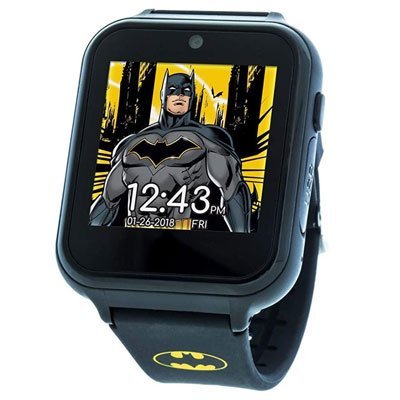 Specifications
Brand:                 DC Comics  

Color:                  Black

Model:                BAT4740 

Dimensions:       6 x 3.3 x 3.3 inches

Weight:               1.4 ounces

 
Includes features like selfie camera, recorder, games , calendar, calculator etc 

The style is derived from many Batman comics and contains the official Batman logo 

Includes USB cable 

Can record images and videos and upload them 

Clock faces can be customized 
DC Comics released their own Batman themed smartwatch which is an attraction for many die-hard Batman fans whether they be kids, teenagers or adults. It has a classic dark design. It features all the basic apps and then some more. To make it a truly desirable accessory for kids, the makers of this smartwatch have also put some games into it. 
The strap is silicone made and durable. The smartwatch has an overall cool design. However, it doesn't have a GPS connectivity system and a voice or video calling feature. But it would be a folly to expect those high-end features, considering its super cheap price tag.

12) Disney Smart Watch - Best smartwatch for school-aged girls 
Specifications
Brand:                     Disney 

Model:                    MN4116AZ

Dimensions:          6.6 x 3.6 x 3.4 inches
Official Disney design 

Includes a selfie camera and many other cool features like recorder, reminder, calendar and games 

Photos and videos can be captured and uploaded 

Lucrative packaging 

Packs a long lasting battery 

Includes USB cable
This is a smartwatch whose design is derived from another multimedia company, Disney, as the smartwatch is officially Disney theme designed. It has a minimalistic build with a beautiful interface.
It's not just an eye-candy for Disney fanatic children, let me tell you. From a functional point of view, this smartwatch has a lot to offer. It covers all the basic apps and tools. Then it goes on to offer more advanced features like camera and multimedia sharing. 
You should know that this smartwatch doesn't come with a GPS tracking system and one to one communication. These features are normally found in mid to high-end smartwatches. 
If you simply want your kid to have fun and have a good time, this smartwatch would make a fantastic present for little Disney lovers.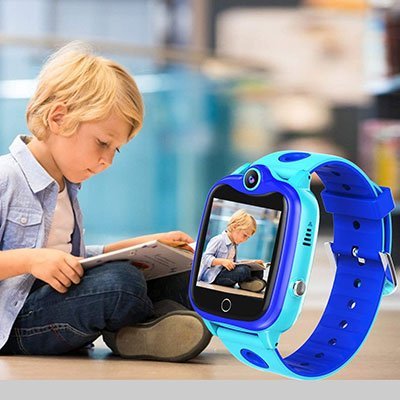 Specifications
Brand:                       Santery 

Color:                        Black  

Weight:                     3.2 Ounces 

Screen:                       2" 
Features built-in kids safety tracker with a 4 mile radius

Has SOS feature which will notify 3 saved contacts immediately 

Has a 'do not disturb' mode, no features will work in the mode except for SOS 

Waterproof 

Has essential and additional features like 2 way voice call, alarm clock, reminders , games etc 

Has a SIM card slot

Has dual locator feature

Built-in camera 
The Santery Smartwatch will without a doubt provide your kids with the most features for the least amount of money. This smartwatch comes with an SOS mode. You can save up to three emergency contacts in it and in case of any trouble, your kid can notify all three contacts simultaneously and instantly.  It also supports a SIM card for cellular communication.
The smartwatch contains apps and features like camera, voice calling, calendar, alarms and games. 
Finding a smartwatch in this price range with a location tracker is quite a big deal. Yet this smartwatch offers a dual location feature. This feature allows you to track both the smartwatch and the smartphone connected with it. We'd say this is an insanely sweet deal. 

What to look for when buying kids smartwatch 
Before you set out to buy a new watch, here's what you need to know. 
Check if the smartwatch is

compatible

with your smartphone

If you want to track your kids then make sure the smartwatch has

GPS  tracking

feature

It's best if the smartwatch is

waterproof

because kids tend to get themselves in all kinds of messy situations. Smartwatches with IP67 or IP68 water-resistant designs are also worth considering.

If you want to track your kids' athletic and fitness progress, look for a smartwatch with

heart monitor

and

motion sensor

You can get a smartwatch with or without a

touchpad

.

If you need to communicate with your kids via the smartwatch, check for

network and connectivity

options

Make sure the smartwatch has a good battery life. Any smartwatch worth it's salt should have

at least

a day's worth of running time on a single charging session.

Check for

emergency tackling features

that notify the parents in case of an emergency

Last but not the least, if you are going for a mid-range smartwatch or one of the more expensive ones, it's best to get one with service or parts

warranty

.



Frequently Asked Questions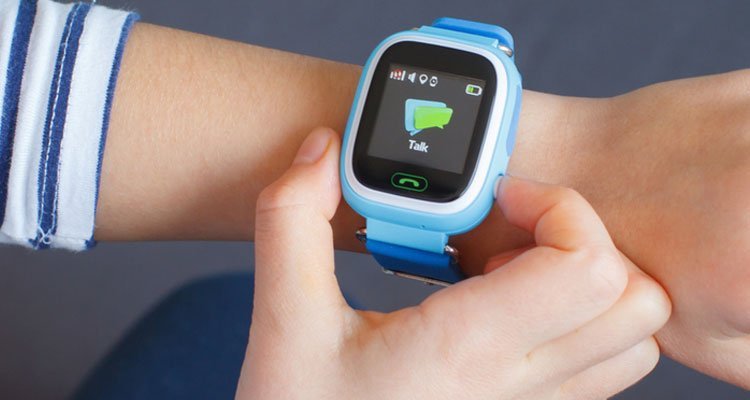 Q:  Can I track my kid via a smartwatch?

 
A:  If the smartwatch supports GPS or other locating systems, then you can track your kids through your phone connecting to smartwatch. The smartwatch's location will show on the smartphone. So you will know immediately if your kid is in some kind of trouble. 
Q:  Are smartwatches healthy for a kid?

 
A: Yes, smartwatches are totally a safe accessory for kids. Most smartwatches are made of safe materials. The small displays shouldn't harm their eyesight. Many smartwatches have 'Do not disturb' features which allows the parent to restrict the kids' screen time.
Q:  Is smartwatch a good gift for a kid? 
A:  Smartwatches make for an awesome present for kids. Chances are, they will absolutely love it. There are many smartwatches out there built specifically for kids. Many of them offer cool features like a camera app and engaging games.
Q:  How to track a smartwatch through a smartphone?

 
A:  The smartwatch first should be compatible with the smartphone's operating system. Then download the designated smartwatch app on your phone and establish a connection. Afterwards, enable GPS tracking in the smartwatch and you can see the smartwatch's location through the app on your smartphone. This guide might help you 🙂 
Read now: Kids action camera reviews 
Verdict
Now, we're done with our review, Take a quick look in the following categories. 
Best smartwatch for 10 year old with GPS system:
TickTalk 3 Unlocked 4G LTE Universal Kids Smart Watch Phone
Top Pick for teens:
Fitbit versa lite
Best Budget Smartwatch for kids:                   
Santery Smartwatch for Kids or VTech KidiZoom Smartwatch DX2 Black