Playgrounddad.com is reader-supported. When you purchase through our links we earn a little commission (at no extra cost to you). This helps us to continue the research. As an Amazon Associate, I earn from qualifying purchases.
Gravity blankets are becoming more common day by day. Why?
Well, to be honest they are amazing for various reasons. Can't sleep well? Because you have anxiety?
Have insomnia? PTSD keeping you up?
You move too much during sleep that does not let you sleep soundly?  Well, a good gravity blanket is an answer to all of these problems.
You may ask what is a gravity blanket and how does it differ from any typical blanket at your home? Weighted blankets are generally heavier than any normal blankets as the name suggests. They are usually filled with some kind of beads – mostly plastic or glass beads – to make them heavier.
In this gravity blanket review, we tried our best to answer all the questions regarding the new Gravity cooling blanket objectively.
Well, Looking for an alternative? Check the recommended weighted blanket for adults.
Unbiased Gravity Blanket Reviews
Gravity produces remarkable weighted blankets. Their newly introduced cooling blankets really have some amazing qualities that surpass the existing weighted blankets in the market. This article provides information about Gravity cooling blanket reviews that will assist you in choosing a weighted blanket for yourself or your family and friends.
Highlighted Features
Weight: 20 pounds
Size: 48" x 72"
One User
Micro-fleece duvet cover
100% cotton
Breathable
Gridded Stich
Hand-wash
Elastic button connectors
Award-winning blanket
30 days return period
First of all, you have to understand what a cooling blanket is. Cooling blanket features the same weighted technology of any Gravity weighted blanket. However, it adds a special duvet cover to make you comfortable in all the season – summer, winter – you name it.
These two layers – the cover and the blanket itself – makes it possible to have a cool and warm feeling in one product. The duvet is made of a particular fabric that can be breathed through. It is also highly absorbent which helps it eliminate dampness created from sweat or humidity.
This technique keeps the blanket from becoming too hot and uncomfortable to sleep in.  This blanket comes with a micro-fleece duvet cover. This micro fabric soft and silky feel when touched and breathability makes it an amazing choice as it allows it to be an all-season usage.
Weight
This particular blanket is of 20 pounds.
Gravity produces three different weight to choose from- 15, 20 and 25 pounds. With these options in mind, you should choose the one that is around 10 percent of your body weight.
For example, if your weight is 200 pounds, then a 20 pounds blanket should fit you perfectly.
However, this is a general rule because researches have shown that this ratio is supposed to give the utmost comfortable pressure that you need. However, everyone's preference is different.
Some prefer heavier blankets, and some lighter. Pick the one you are most comfortable with.
Dimension

The dimension of this blanket is 72 inches in height and 48 inches in width.
This size is not usually found in the market. This blanket does not cover a king-size bed. This is more likely the size of a couch sized or lounge around the bed.
On this topic, Gravity specified that this is a personal blanket meaning it is recommended for one person only.
Why? Because each user requires a different weight according to their individual body weight.
So, in order to get the most out of this cooling blanket, it should be used personally.
Comfort

The interior blanket is made of 100% cotton which makes it breathable and soft to touch.
And the most inner core part of this blanket contains smaller pockets containing fine grade, hypoallergenic glass beads.
The smaller the pockets are, the more evenly distributed the weight is.
Gravity stands out for their smaller pockets making sure the even pressure distribution. These tiny compartments are sewn with specialized Gridded Stitching.
These technically advanced stitches help to keep the weight evenly distributed and prevent from any bead's leakage. It has multiple elastic fasteners in every corner to keep the inner blanket in place inside of the duvet cover.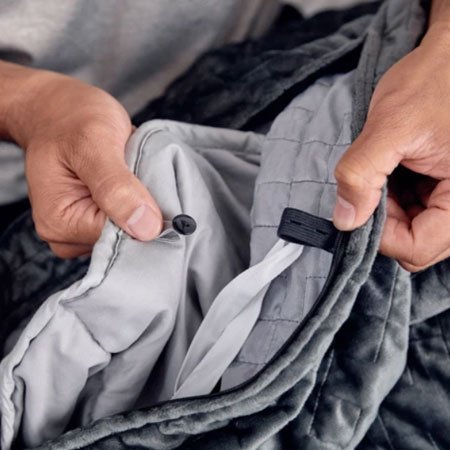 Washing

The inner blanket is advised to be hand-washed.
Because of the heavyweight and to keep the blanket long-lasting machine washing should be avoided.
For maintenance, the outer duvet cover comes in handy. The duvet cover is light and can easily be washed and dried in the machine. Using this cover help keeping the blanket clean and more durable. Machine washing does not damage the cover's plush like fabric.
Trial Run Facilities
Sometimes purchasing decisions of a weighted blanket can be tough because they are quite expensive. In this case, gravity offers a solution. They provide 30 days trial period for you to try out their product and if you do not like it, you can return it. This makes it a safe purchase.
Awards
Gravity guarantees 100% customer satisfaction. In their survey, it has been shown that 72% of Gravity weighted blanket users report that they have been having better and more calming sleep.
54.7% of users stated that they have been facing less anxiety and stress after using the blankets.
For their success in the therapeutic purpose, Gravity has been awarded Best Invention of 2018 by TIME and Top Rated Weighted Blanket in 2019 by Mattress Advisor.
After Gravity weighted blanket review, we came to the conclusion that this blanket is best used as a therapeutic tool for people with anxiety, PTSD, ADHD, and autism.
It is also an amazing choice for people who do not prefer and overwhelming temperature while sleeping and for individual usage. If you are a budget seeking consumer then this blanket is probably not for you.
Also, if you are looking forward to sharing a blanket with your loved one or want your blanket to at least fit your bed, this particular blanket is not recommended for you.
How Does it Work?
The science behind weighted blankets is that they use DTP (Deep Touch Pressure) theory and apply them in reality to provide comfort and relaxation. Autism researcher Dr. Garadin observed that cows tend to be more relaxed and docile while being squeezed gently.
The extra weight of a weighted blanket imitates a hug like sensation creating a sense of safety.
It has been found by many researchers that hugs release oxytocin and serotonin. These are called happy hormones because they are involved directly in generating the feeling of happiness and relaxation in the brain.
These two hormones later transform into melatonin. Melatonin decreases the level of our body's main stress hormone cortisol and aid our body to fall in sleep.
A warm snuggly thing is naturally a comforter.
For example, take a blankie or a stuffed teddy bear from your childhood which could calm you down in the most stressful of situations. A weighted blanket is a kind of similar. Blankets are soothing and warming naturally giving off a sense of security.
If your kids have autism or anxiety, and at the same time sensory processing disorders, weighted blankets are your best option. Children with sensory processing disorders are often get irritated by touching the skin, so a weighted blanket provides the feeling of being hugged without getting touched.
For all these reasons, a weighted blanket is often referred to as a therapy blanket. (Here are some of the top-rated kids weighted blanket you should check)
FAQ (Frequently Asked Questions)
How do I choose the right weight?
The general rule of thumb of choosing the right weight of any weighted blanket is that it should be around 10% of your body weight. That means a 150 pounds weighing person should be most comfortable with a 15-pound blanket. However, everyone has personal preferences. You should pick the one you are most comfortable with.
What kind of fabric is the best?
Weighted blankets are usually made with cotton. Cotton are natural and breathable making it almost undefeated in this sector. But silk or flannel are softer and more luxurious to touch. These are mostly used in children's blankets.
Buyer's Guide
Some features are essential, some are just a bonus. Quality stitching is one of the essentials you should be alert about. If the stitching isn't good enough, glass beads will leak which is not only annoying but also can be very dangerous.
Duvet covers are next to indispensable to use with a weighted blanket. Most of the weighted blankets are not machine washable, so duvet covers keep them clean and durable. Covers are easily washable in the machine. Check before purchasing if the blanket comes with a cover otherwise you have to buy one.
Weighted blankets are quite expensive. So, purchasing one can be very intimidating. Check for the warranty the company provides. Gravity grant a 30 days trial period for you to decide if you really are satisfied with their product.
To Wrap it up
There are a ton of factors that should be taken into consideration for you to buy the perfect weighted blanket for you.
For example weight, size, fabric, beads material, duvet covers, stitch technique, pocket-size, warranty offers, etc.
Putting aside personal preferences, the Gravity cooling blanket ticks almost all the right boxes. Its breathability, all-season usage, bonus cover, tiny pocket size, the risk-free purchase makes it the best Gravity blanket.
If budget is no issue, then it is highly recommended.
Check this video review, (Credit, Mattress Clarity from Youtube)