Playgrounddad.com is reader-supported. When you purchase through our links we earn a little commission (at no extra cost to you). This helps us to continue the research. As an Amazon Associate, I earn from qualifying purchases.
What is the best weighted blanket for kids?
It depends on what features you are specifically looking for. Make sure the weight of the blanket ticks the right measurement as it is stated above. Weight is the most important thing to consider while buying a weighted blanket especially for kids.
Too much pressure can be suffocating for a child, especially for kids under the age of 5. Most of the blankets in the market come with weight measurement instruction. It is essential that you pick the right weight to provide the perfect snuggle your kids need.
In this article, we tried to provide you all the necessary information that you need before choosing your perfect weighted blanket. Because most of these are quite expensive and one-time purchases.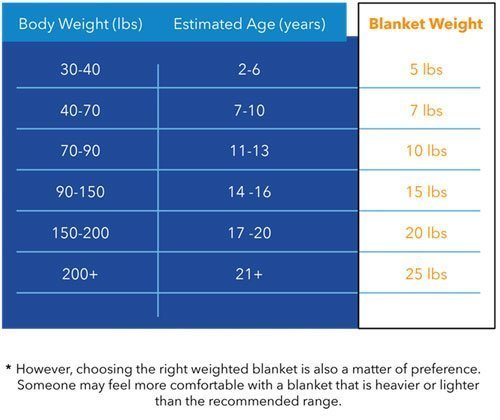 Top Picks
Catagories
Chosen Weighted Blanket
Features
Best Quality Blanket
Quality Premium Kids Weighted Blanket

Ultra-breathable
soft and versatile usage, 100% cotton
advanced sewing technique

Best Value Blanket
Zonli Kids Weighted Blanket

Affordable Price,
100% breathable cotton
hypoallergenic

Best Safety
Certified Blanket
Supersoft Calming Weighted Blanket

Certified by Federal Children's Product Safety Requirement and PTPA, microfiber
breathable.
Best Weighted Blanket For Kids – Helping Your Child With Anxiety Disorders
Weight: 7 lbs
Easy to wash and dry even at home
Lifetime guarantee
Great for sensory input
Extra padding to make it warm and comfortable
Aside from all the great benefits of weighted blankets, this particular blanket is recommended for its plushness and extremely soft, comfortable sense of touch it provides its users. Its dotted Minky fabric is perfect for relaxing your children in time for bed or stressful situations.
It comes with a duvet styled removable cover that makes it easier to pull apart the blanket and wash it at home. It's easy to wash and dry at home quality makes it more suitable for the usage of children making it very popular among the weighted blanket. Both the cover and the blanket inside is washable by machine.
Harkla is extremely conscious of customer satisfaction. That is why this blanket comes with a lifetime money back guarantee which makes it a risk-free deal.
The material used to make this blanket is 100% non-toxic poly pellets and padding. The material used and its perfectly distributed weight in its pockets make the warm and comfortable experience possible. It's not just any comfortable blanket, the dots on top of the mink fabric adds the perfect sensory input for relaxation and therapeutic purposes.
This particularly 7lbs weighed blanket is suitable for children weighing from 40 to 70 lbs.
Good for:
Children of 6 to 8 years old
Home and classroom usage
Sensory seeking kids
Hot sleepers
Weight: 5 lbs
Size: 36" x 48"
Unique 7 Layered design
3-year guarantee
Leakage free construction
Three-dimensional sewing method
Temperature control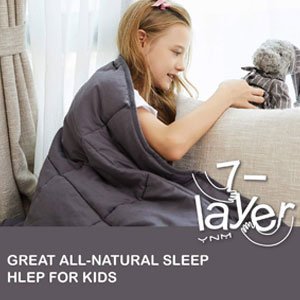 YnM stands out for its unique 7 layered design with glass beads technology in the middle of it. Surrounded by soft fabric layer with central glass beads, the blanket replicates the feeling of being hugged. The microfiber used in this blanket helps to control temperature more efficiently. This specialized design allows it to perfectly wrap your kids and hold the shape while they sleep.
The blanket can be used with a duvet cover for easy washing at home. YnM has a number of duvet cover- Breathable Cotton Duvets, Cooling Bamboo Duvets Or Soft Warm Minky Duvets, etc available in their stock. These covers are easily put apart and washable in the machine.
The rule of thumbs for choosing a blanket for your children is that it should weigh about 10% of their body weight. This particular blanket of 5 lbs is suitable for children weighing 40 lbs. YnM provides a wide array of sizes to choose from – twin size, queen size, and kind king-size, etc.
This blanket uses 4"x4" smaller compartments to distribute the weight evenly throughout the shape ensuring the sleepers comfortable and relaxing experience. The new and unique three-dimensional sewing method makes sure that the glass beads don't leak and weight doesn't shift from one compartment to another maintaining even weight distribution.
YnM guarantees 100% customer satisfaction. It also issues free repairing if any unexpected damage occurs to your blanket within 3 years.
Good for:
Children of 4-5 years
Those who prefer hugging sensation
Therapeutic purpose
Weight: 5 lbs
Size: 36"x 48"
100% cotton
Breathable fabric
24/7 customer service
Non-glue Padding
Affordable Price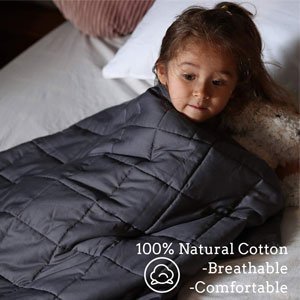 If you are looking for a kid's weighted blanket that won't cost you a fortune but won't compromise quality either, then Zonli is the one for you. The Zonli Weighted Blanket is a very attractive blanket for its very economical price.
Thanks to its 100% cotton material, this blanket are extremely soft and comfortable to touch. But the most eye-catching feature of this blanket is its breathable quality ensuring the users don't be too hot.
Unlike most of the weighted blanket in the market which tends to be very warm, it can be used throughout the whole year regardless of what season it is.
The double layered microfiber padding surrounding the glass beads makes certain that no glass beads leak out. The 100% natural fabric engulfing the padding makes the blanket very cozy and soothing.
The materials used in this blanket are hypoallergenic, non-toxic (Safe choice for kids), and odorless. Zonli warrants high quality material to prevent any toxic reactions.
It comes with more than average 6-8 weighted loops which allow the weight to be distributed evenly.
If you have any problem regarding the product, just call up anytime any day as Zonli provides 24/7 customer service. It also promises to pay back the price if your issue isn't resolved.
Zonli has an array of different colored cover available for this blanket. The cover is easily washable in machine and it keeps the blanket clean and affords it to last longer.
This 5 lbs weighted blanket is recommended for children weighing between 40 – 60 pounds.
Good For:
Children of 5 – 8 years old
Economical buyer
Those who prefer a cool sleeping environment
People who are prone to allergy
Weight: 5 lbs
Size: 36" x 48"
7 Layered
Free Minky cover
Advanced sewing technology
Ultra-breathable
Micro Glass Beads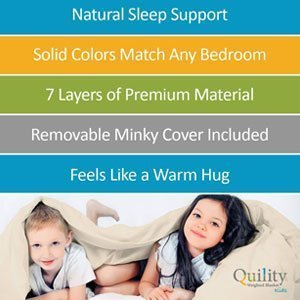 The quality premium blanket is a top choice among weighted blanket for its smaller than usual glass beads. Smaller beads tend to be less noisy and evenly distributed to grant a more satisfactory feeling. The glass beads are surrounded by non-glue polyester padding.
The advanced sewing method keeps the glass beads evenly allocated to their place. It has two layers of extra polyester to soften the blanket and reduce the change of tearing and leaking.
This blanket is constructed by 7 layers to provide gentle pressure so that your kids feel they are being hugged which according to the user's review helps to reduce anxiety and get sound and healthy sleep.
The outer layer is made of 100% cotton fabric absorbs body heat to keep the users warm during chilly seasons. The fabric is also breathable allowing it to be used over the hot weather too.
Every Quality blanket comes with minky duvet cover. You can easily separate it by simply unzipping the zipper and loosening the ties at the edge of the blanket. These covers are machine washable. The cover helps in maintaining temperature. In cold days, the fabric of the cover adds more warmth. To have a cooler experience remove the cover and enjoy the 100% cotton blanket inside.
The blanket is recommended not to be washed in the machine. The cover can be washed and dried in the machine but the blanket should be dry cleaned only.
Quality assures 100% customer satisfaction. That is why they offer a full refund if you are not satisfied with the product.
This particular 5 lbs blanket is perfect for children weighing from 40-70 lbs.
Good for:
Children of 5-8 years.
Around the year usage
Stressed and anxious children
Weight: 5 lbs
Size: 36" x 48"
100% breathable cotton
1 layer of microfiber
Hypo-allergenic micro glass beads
8 interior corner ties
Soft minky fabric cover
Safety certified
Hazli's forethought for safety is really impressive. As the blanket is dedicated to children, Hazli takes all the safety precautions, so that the children aren't exposed to any toxic material.
Hazli's blankets are all tested and certified safe by the Federal Children's Product Safety Requirement making it the safest choice. It has also been awarded Winner's Seal of Approval by Parent Tested Parents Approved community.
The study has found that 20 – 30% of children have difficulty falling asleep quickly and having proper sleep. The lack of sound sleep interrupts their daily activities – such as concentrating, studying. It also affects their physical and mental development.
This weighted blanket is designed to apply even body pressure. It procreates the feeling of being embraced so that the children having trouble sleeping feel safe and secure.
This blanket comes with a high-end quality minky cover. The main material of the blanket is 100% cotton. So not only it is breathable, but it also maintains a constant temperature. The glass beads are hypoallergenic meaning it is comparatively unlikely to result in an allergy. The cover is machine washable but not the blanket. Only manual clean and spot cleaning is recommended.
It's one layer of microfiber makes it very soft and comfortable. It has 8 interior ties that prevent any chance of glass beads leaking out.
This particular 5 lbs blanket is fitting for children weighing up to 55 lbs.
Good For:
Children of 4 – 7 years old
Secure usage
Therapeutic purpose
06) Gravaria Weighted Blanket for Kids – Childrens Toddler Heavy Blanket with Removable Cover
Weight: 5 Lbs.
Size: 36" x 48"
Leakage Free
Removable Cover
High Quality Fabric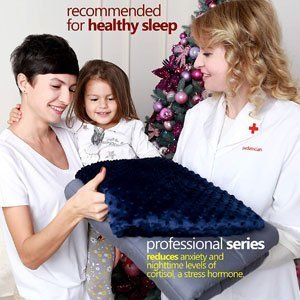 This blanket from Gravaria is made with the highest quality fabric. This fabric controls and maintains an even temperature throughout the body. The weighted blanket helps to reduce the level of stress and increase relaxation.
The glass pellets in this blanket are separated and distributed in separate pockets. These pockets are evenly distributed throughout the blanket and maintain an even weight. The glass pellets are securely sewed in so that no pellet leaks out from the blanket.
Each of these blankets comes with a removable cover. Blankets are hard to wash because of their weight. The covers help to keep the blanket clean. These are easy to wash in the machines too.
The ties at corners are provided to keep the blankets in one place. They hold the blanket so it doesn't move around too much while being used.
Weighted blankets should be chosen carefully according to their weight and user's weight. This particular 5 lbs blanket is suitable for children weighing from 40 – 60 lbs.
Good For:
Children of 5 – 8 years old
Easy maintenance
Shop now at Amazon.com
Weight: 4.5 lbs
Size: 36" x 48"
100% polyester
Micro mink and micro Rachel Plush
Lead free and antimagnetic glass beads
Machine washable
Bonus doorknob pillow
This blanket is created with soft micro mink plush on one side and on the other side, soft micro Rachel plush. The combination of the fabrics makes the softest experience possible. It emulates a hug like experience so kids don't find bedtime boring rather comforting and secure.
This blanket is made with children's safety in mind. Franco is very concerned about safety as its main users are children. It contains long-lasting pockets in which glass beads are securely sewed in. The glass beads themselves are non-toxic, anti-magnetic, and lead free.
The poly fill padding not only works to make the blanket soft but also protects the glass beads from falling out. It also cancels out the noise of glass beads' friction during sleep.
The blanket is easily washable in the machine. You can also put it in the dryer without worrying about the color fading or the erosion of fabric. The material used in this is wrinkle resistant, so you don't even have to bother ironing the blanket.
The blanket comes in Baby Shark Design which is very popular among children than plain colored blankets. The vibrant color and cute shark family is very appealing for kids and it keeps them playful and keeps the energetic vibe. This delightful blanket comes with a bonus baby shark door knob pillow. It is great for gift giving as it comes with giftable packaging too.
For maximum enjoyment and comfort, this 4.5 lbs blanket is recommended for children weighing 35 to 55 pounds.
Good for:
Children of 3 to 8 years old.
Playful design
Value seekers
Easy maintenance
5 lbs
36" x 48"
100% combed breathable cotton
8 loops
Non slippery cover
7 layers
Double stitches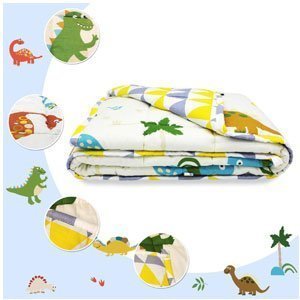 This blanket is made with 100% combed cotton. Combed cotton is the finer quality cotton that is softer and more comfortable. The fabric is also breathable making it suitable for all season usage.
It is square sized and constructed by seven individual layers. The distribution pockets are 4 inches which are smaller than usual. Smaller pockets feature evenly weight distribution throughout the blanket. Smaller pockets also add more security against glass beads leakage.
In addition, in order to prevent any risk of leakage TerriTrophy provides double stitching in its blankets. The blanket is made of nontoxic, Eco-friendly, safe fabric, and glass beads to prohibit any kind of allergy or skin irritations.
The cover of the blanket is printed on bright colored dinosaurs. In addition, this blanket comes with a set of bonus dinosaur building blocks set. Overall, it makes a great gift because kids love dinosaurs.
You can wash this blanket in the machines but in order to increase lifespan spot cleaning, hand wash or dry washing is recommended.
This particular 5 lbs blanket is recommended for children weighing from 30 to 60 lbs.
Good For:
Children of 4 – 8 years
Playful design
All season usage
Buyers Guide – How to choose the right KIDS weighted blanket?
Weight
There are several factors that you should calculate for choosing the perfect weighted blanket for yourself. Obviously, the weight of a blanket is the first thing you should consider. Studies have estimated that the blanket should be roughly about 10% of your body's weight to grant the most comfortable feeling.
For example, if you kid is weighed 50 pounds then the perfect weight of the blanket should be 5 lbs to provide the maximum coziness. Too much or too less weight can undermine the effects of using a weighted blanket.
Fabric
The next thing to consider is the fabric of the blanket. There are many fabrics to choose from. The most common are cotton, polyester, and flannel. Flannels are mostly used in children's blanket due to its soft fabric quality. It is warm and teds to hold heat more than cotton.
However, cotton are the natural and cooler option. Cotton are soft although not as much as a flannel. Some cotton are breathable.
You need to choose the fabric that suits the skin type of your child the most. The ideal weighted blanket provides the sensory output you are looking for.
Washing technique
Make sure to read the instructions on how to wash the blanket. Not all weighted blankets are washable in the machines, mostly due to their weight. However, some are specially made for machine wash and dry. It is best to use a cover. Covers are light weighted and can be easily thrown into the washing machine. It helps to keep your blanket clean and increase durability.
Safety
It is best to verify that the glass or plastic beads are non-toxic and lead free. Some blankets are shown to create allergic reactions and skin irritations. Some communities like PTPA check whether or not the blanket is safe for the usage of children.
Weighted Blanket FAQs
Q. What is a weighted blanket?
Weighted blanket is specialized blankets which are mostly used for therapeutic purpose. As the name suggests, it is heavier than normal blankets. It is usually filled with a small grain like substances like glass, plastic beads, or pellets to make it heavier and cotton or polyester padding to make it softer and comforting.
Q. How does it work?
The extra weight of a weighted blanket emulates the hug like feeling providing a sense of security. Research shows that hug releases oxytocin and serotonin hormone. Oxytocin is a neurotransmitter that generates a feeling of relaxation and happiness. A weighted blanket has a similar effect. Some of the serotonin grow into melatonin which helps our body rest and sleep. The deep but calming pressure decreases the level of cortisol, one of the main stress hormones.
It also prevents turning and tossing in the bed by holding the sleeper in one place ensuring a healthy and sound sleep. It is shown to be incredibly effective in fighting insomnia.
Q. What is it used for?
Weighted blankets, nowadays are mostly used for therapeutic purposes. Blankets are not only essential for cold seasons, but most people, especially children also find it a safe and comforting tool. This is why most children carry around a blanket in order to have a soothing presence without even realizing it. Weighted blankets take the calming effects of a typical blanket and fuse it with a therapy tool.
The theory of gentle pressure to reduce anxiety and stress has first been used by an autism researcher Dr. Temple Grandin. She found out that being held and hugged lessen the level of anxiety in autistic and sensory processing disorder patients.
People with sensory processing disorder are very sensitive to being touched by others. This is where the weighted blanket comes in. It provides them a feeling of warmth and cuddles without actually being touched.
Q. In which cases are weighted blankets most useful?
Weighted are found to be profoundly helpful in these cases:
Insomnia
Autism
Anxiety Disorder
Attention deficit hyperactivity disorder (ADHD)
Restless Leg Syndrome
Fibromyalgia
Depression
Post-Traumatic Stress Disorder (PTSD)
Obsessive Compulsive Disorder (OCD)
Panic Disorder
To Wrap it up
Every blanket mentioned in this article is significant for its own distinctive characteristics. Purchasing a blanket is a completely personal choice and it depends on your specific needs- what you are trying to benefit from it.
However, it you need to choose the blanket that just tick the right boxes- we narrowed down the list for you by analyzing and comparing.
Quality Premium Kids Weighted Blanket , Zonli Kids Weighted Blanket, and Supersoft Calming Weighted Blanket are chosen for the best blankets for its exceptional quality, economical value, and security certification consecutively.
In our opinion, these are the best weighted blankets for kids.
Here is a DIY video, Please check if you want to make on your own,
Sources: