Playgrounddad.com is reader-supported. When you purchase through our links we earn a little commission (at no extra cost to you). This helps us to continue the research. As an Amazon Associate, I earn from qualifying purchases.
What are the best action cameras to preserve your kid's fond childhood memories? Find out more about the best GoPro for kids.
With increased social media activities among kids and teenagers, the action camera is getting popular day by day.
Why? Because they are small, handy, and waterproof. Despite their handy size, they capture amazing videos and photos. Their durability is what makes them the ultimate choice for a kid because let's face the truth, kids are rough with their toys.
Compared to any normal camera, GoPros are one kind of beast for their sturdiness. That's why it is the choice over normal cameras if your kids like shooting videos, love action, adventures, and capturing them.
In this article, we tried to narrow down some of the best products for those who are thinking about buying an action camera for their kids.
GoPro For Your Kids: Top Picks
| Categories | Action Cameras | Features |
| --- | --- | --- |
| Best Quality GoPro | GoPro Hero7 Black | HyperSmooth Video Stabilization, Time Wrap Video, Rugged and waterproof build, Voice Control, Live Streaming, 4K60 video, 12-megapixel photo, Intuitive Touch Screen |
| Best Budget GoPro | GoPro Hero (2018) | 10 Mega Pixels, Wi-Fi and Bluetooth, Waterproof, 1440p or 1080p Video, Includes accessories, One year of international warranty |
| Best Alternative Action Camera | Nicam Wi-Fi Sports Camera | 4K 25fps & 2.7K 30fps, 12 Megapixel, Built in Wi-Fi, HDMI output, LCD touchscreen, Front screen, Electronic Image Stabilization, 100 feet waterproof, 2.4G wireless wrist remote, 2 rechargable batteries |
Best GoPro For Kids: Action Camera Reviews For Your Child

HyperSmooth Video Stabilization

Time-Wrapped Video

Rugged and waterproof build

Voice Control

Live Streaming

4K60 video

12-megapixel photo

Intuitive Touch Screen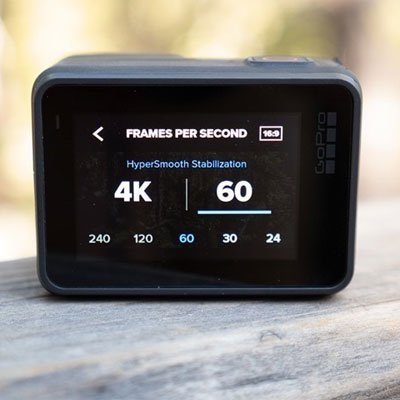 GoPro HERO7 is the most attractive GoPro on the market right now, without question. It adds extra features to it's predecessor's.
Its HyperSmooth image stabilization gives it a gimbal-like, stable feel to your videos. Its intelligence predicts the user's action beforehand and corrects any camera shaking.
Its SuperImage technology combines HDR, local toning maps, and noise reduction to create the perfect image quality.
It's built quality is very tough, making it suitable for adventures and rough usage. Its body is rugged and waterproof, so that you don't even have to use the housing.
GoPro HERO7 can be controlled by voice command making it much easier to use while doing multiple things. It also has an intuitive touch screen which makes it feel like you are using a smartphone. This feature makes this model ultimate user-friendly.
Another eye-catching feature of this model is that you can share a video at the very moment you are living it by live-streaming it.
It produces an impressive 4k60 video and 12-megapixel images.
GoPro HERO – Waterproof Digital Action Camera
10 Mega Pixels

Wi-Fi and Bluetooth

Waterproof

1440p or 1080p Video

Includes accessories

One year of international warranty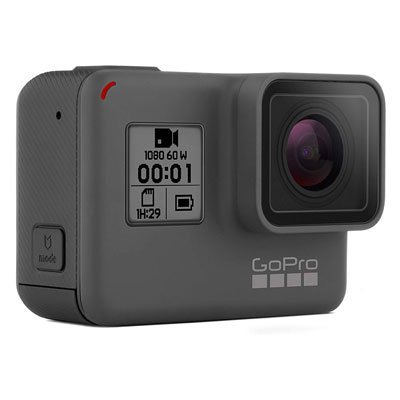 If you are looking for a less expensive GoPro, this model is perfect for you. This is an amazing entry-level action camera for kids and teenagers.
It features Wi-Fi connectivity and built-in Bluetooth making it easier for your kids to connect to social media or share any files.
Its 10 megapixels ( 1440 pixels ) produces a high-quality image. It records its videos at 1440p or 1080p. This is pretty impressive quality for an entry-level camera. It also features amazing voice control, a good stabilization system, and a touchscreen. All these features help build this camera very friendly to navigate.
It has a pretty strong body, not as strong as the higher end GoPros. However, despite its cheap price, it is waterproof to 33 feet.
This camera comes with some accessories that you need. With its Hero Camera and frame comes with, Mounting Buckle, Curved & Flat Adhesive Mount, USB-C Cable, Rechargeable Battery, etc.
It is advisable to use your GoPro with an updated firmware. And you can simply do it with a quick desktop app without any hassle.
GoPro Hero comes with one year of international warranty. It also gives you an extra year of domestic warranty if the product is purchased only from authorized sellers.
Waterproof

Includes accessories

10 Megapixel photos, 4:3

Single press

Built-in battery

4k at 30fps and 1080p at 90 fps

Small size
GoPro Hero5 Session is not very different from the original. It has all the features of its proceedings and some making it one of the best action cameras for kids.
This camera comes with almost all the GoPro accessories for kids. The package includes with its camera and the frame a Curved Adhesive Mount, Flat Adhesive Mount, Mounting Buckle, and a USB C Cable. It has a built-in battery and uses the USB cable to charge and transfer files. The SD card is not included in this package.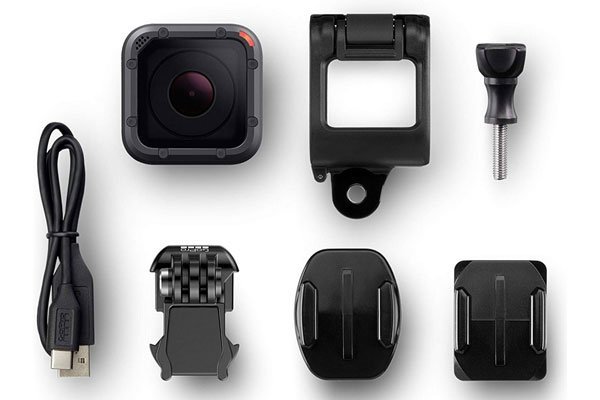 The body is waterproof. And your kids can use it the protection of housing up to 33 feet.
With a single press, the camera starts recording. Recording can not be made any easier for kids or teenagers. It shoots photos at 10 megapixels and videos 4k at 30fps and 1080p at 90 fps. The image ratio is fixed. That is 4:3.
The body of this model is comparatively smaller than most GoPros. The small size makes it more suitable for kids to handle and mount.
It is advised to hold the menu button for eight seconds if the camera freezes. This reset does not tamper with any content in the camera.
12 Megapixel

Front Display

GPS

4K at 30fps and 120fps at 1080p

Removable Battery

Touchscreen

Voice Control
Hero5 is pretty older than the latest GoPro version. However, it does not undermine its quality. Some of its features even top the higher-end cameras like Hero7.
One of the most eye-catching features of this model is the front display which makes it exceptional than most of the GoPros.
The combination of voice control and GPS heightens the level of connectivity making it one of the best GoPro for teenagers as they are very active on social media.
It has the quality to snap pictures at 12 megapixels and shoot videos at 4K at 30fps and 120fps at 1080p. It features single, burst, and time-lapse modes.
Its build quality is sturdy and it is 100% waterproof making it last longer and perfect for any kind of adventures your kids have in mind. It does not need the protection of housing up to 33 feet or 10 meters.
Some Best Alternatives To GoPro Action Cam
Waterproof

2 mounts

Underwater camera

1.4-inch LCD screen

Kid-friendly interface

Rechargeable battery

Best for 4 – 9 years old
Vtech Kidizoom Action Cam is a great alternative to GoPro. This action camera is specially made for kids from four to nine years old.
It has the features of GoPro. For example, it is waterproof and mountable. However, it is much cheaper and smaller in size to fit well in a kid's hand which makes it one of the best alternatives.
It comes with 2 mounts that can be attached on a bike or skateboards etc. It also comes with a waterproof case. Your kid can take videos or photos up to 6 feet under the water.
It has an LCD screen of 1.4-inch display. It does not feature a touchscreen. It has the capability to capture time-lapse photos and stop motion videos.
As this camera is made especially for kids, its interface is full of kid-friendly games, playful photo effects, and filters. They can be easily downloaded and transferred via USB cable.
The Li-ion polymer battery that comes with this camera is rechargeable and can power it for 2.5 hours of recording time. Its USB slot can house 32 GB SD card that can store 278400 photos or 250 minutes of video.
4K 25fps & 2.7K 30fps

12 Megapixel

Built-in Wi-Fi

HDMI output

LCD touchscreen

Front screen

Electronic Image Stabilization

100 feet waterproof

2.4G wireless wrist remote

2 rechargeable batteries
Nicam's look is kind of similar to GoPro except it's cheaper and more kid-friendly.
Nicam produces professional 4k videos at 25 frames per second and 2.7k at 30 frames per second. Its video quality is exceptional for its price point. It also captures stunning photos at 12 megapixels.
It has built-in Wi-Fi making it super easy to connect to any kind of media at any time. You can edit the photos instantly by connecting the camera to your phone using the Wi-Fi. You just have to download an app called iSmart DV. Its Wi-Fi has a range of 33 feet or 10 meters. With the HDMI output, the photos can be displayed in real-time on any monitor.
Nicam's body is not as rugged as a GoPro but it is pretty tough and durable. It comes with a waterproof case which enables it to use under the water up to 100 feet depth.
It has a wrist 2.4G remote from which your kids can control the camera enabling them to record handsfree. You can control the menu, capture a photo, or start recording with it conveniently.
Both batteries that come with the camera are 1050mAh. They are rechargeable and record more than 90 minutes.
Nicam provides one year warranty and 100% customer satisfaction making it a safe purchase.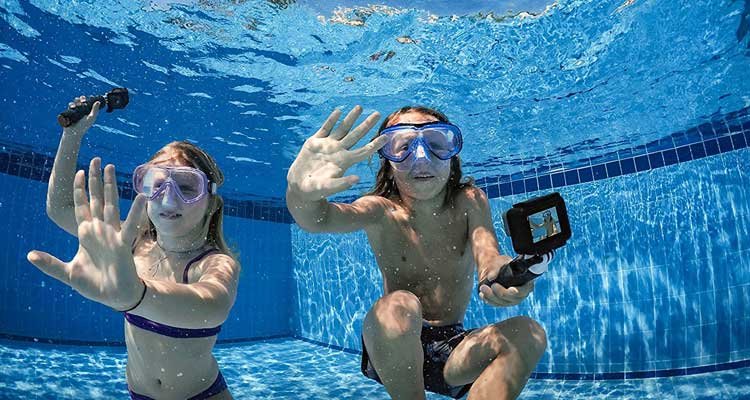 How to choose the GoPro (or action camera) for your kids?
GoPro isn't like your typical traditional cameras. It differs from any normal camera for its shooting angle, mount on feature, and extra tough body for action. So, choosing a GoPro is not the same as choosing a camera. There are some features that make an action camera great for its purpose.
What features to look for when choosing a GoPro,
Build Quality:
GoPro or its alternative action cameras stand out for their strong build. Action cameras, as the name suggests are made for action. That means the camera has to go through rough weather, harsh handling, and maybe even have to go through water.
So, the first thing to watch out while buying the best kids GoPro is its build quality. Most of them are waterproof. Make sure they are rugged and strong enough to stand through the adventures your kids have in mind.
Budget:
GoPros and alternative action cameras vary in price. Different price tags offer a different kind of specifications. It depends on a person's own requirements what kind of features they want in their camera. It is a widely believed but wrong assumption that all action cameras come with a heavy price tag.
Image and Video Quality
Aside from all the other features, this is one of the most important. Because besides all the differences between normal cameras and compact action cameras, both have the same purpose – take stunning photos of videos. Make sure the chosen action camera has the depth of field, pixel number, and video resolution that your kids desire before purchasing it.
Batteries
Batteries have a vast array of options to choose from. Some are removable and some are built-in. Check the battery power and life to make sure it can work as long as you need it. Nothing is more of a bummer than a dead battery in the middle of a shoot.
Connectivity
Some action cameras feature GPS and Wi-Fi to make it easy for your kids to connect to social media. This feature comes in handy while live steaming, tagging location, etc.
Other Extra Features
Some GoPros have features like touchscreen, voice commands, video stabilization. All these aspects help to provide a user-friendly interface. Voice commands come in handy while it is mounted on a helmet or somewhere where you can not control by hand.
Bonus Tips
No matter how sturdy your GoPro is, it is always highly recommended to use housing to add extra protection. It will prolong the lifespan of your camera.
GoPros are not generally meant to be held by hands. So, mounts are a must. There are lots of mounts to choose from like helmet mounts, bicycle mounts, strap mounts, etc. Get the one that your kids need for their videos.
Waterproof cases, external audio equipment, VR gears, etc accessories can be very useful depending on what type of videos you are making.
Verdict
Every GoPro or any action camera has distinct features and tends to individual needs. You should take into account what kind of videos your kids want to make and buy a camera that provides everything needed to make that possible. But by analyzing overall specs, budget, and quality, in our opinion GoPro Hero7 Black (best quality), Gopro Hero 2018 (best budget) and Nicam Wi-fi Sports Camera are the three top GoPro for kids.
Have any questions? Submit your queries to Gopro's Contact page or the community forum page.