Babies put a smile on our faces. We look at them and can't help wondering what they're thinking, what they're trying to communicate.
From birth to toddler years, babies need extreme protection and extra care. A playard is a useful tool for raising a child because it keeps your kids out of harm's way while left unattended.
Pack and Plays make day to day babysitting healthy, fun, and safe for everyone.
Nowadays many companies have gotten into playards production. In this article, we have chosen the 11 best pack n plays for newborns and toddlers.
In order to provide our own take on these products, we have tested them in various conditions. So hang on tight and find out which Playard is the best choice for your newborn or toddler.
Do I Really Need a Playard?
Before we begin, we want you, our readers, to be clear about the purpose of getting a playard for your toddlers.
Because that would not only determine whether you should get one(spoiler alert: you should) but also help you choose the right pack and play that fulfills those needs.
A playard or pack'n'play is a piece of furniture designed for newborn babies or toddlers to prevent them from any self-inducing harm while their parents or guardians are away.
This furniture is multiple cornered, usually two to three feet long, while traditionally made of wood, it is made of plastic, mesh, and nylon sides now mostly.
Some Pack'N'Play comes with a bassinet which is made of a thin and firm mattress used for sleeping spaces for the babies.
Some are convertible to arrange it according to the needs, some have portability features. Newborn babies or toddlers can sleep in the playard, play games inside it, eat food while being protective of other environmental hazards. With all those advantages, playards or pack n plays make a must-have necessity for babies.
Best Pack n Play – Top Brands Reviewed in 2022
Specifications
| | |
| --- | --- |
| Brand: | Graco |
| Weight: | 34.5 pounds |
| Dimension: | 28.5 x 40 x 33.3 inches |
| Batteries: | 3 AA Batteries needed |
| Battery Life: | 4 hours |
| Maximum weight carriable: | 30 pounds |
| Portability: | Yes |
Pros
Portable seats with a capacity to hold up to 18 lbs

Very flexible to move it across the house and into different rooms

Features a changing station

Has a storage organizer built within for keeping things like change of clothes, diapers and other baby essentials

Includes a removable bassinet

Offers 2 speed soothing vibration for both the bouncer and the baby sea

Has a sound system
Cons
Assembly is comparatively difficult

Some customers have raised concerns for its durability

Is relatively expensive

The mattress is relatively thin
The famous baby-product brand 'Graco' once again enters the market with its product 'Graco Pack N Play Snuggle Suite LX. This playard is by definition a modern one and has got all the catchy and flashy features you need.
While in the paper, this one sounds and looks amazing, it has some issues to go over too. It is recommended to consider the pros and cons before purchasing this product.
If you have a big budget for a flashy playard, then Graco Pack N play Snuggle Suite might be the answer for you.
Specifications
| | |
| --- | --- |
| Brand: | Guava Family |
| Weight: | 12 pounds |
| Dimension: | 46 x 31 x 25.5 inches |
| Batteries: | Not needed |
| Maximum weight recommendation: | Weight not restricted |
| Material Type: | Phthalate-free, BPA free, lead-free |
Pros
Very lightweight weights 13 pounds only packed

Can be contained in a backpack carrying case to travel with it

It has been certified gold non-toxic by GreenGuard

Has a size zipper door which makes it easy to access the baby

Mesh sides are designed for increased ventilation and don't obstruct views

Very fast (15 seconds) and easy to set up
Cons
Doesn't include a bassinet

The mattress is very thin and can be uncomfortable

Assembling can be confusing at first

Lacks some shiny features
The Lotus Travel Crib produced by Guava Family, as the name suggests, is very worthy of a playard for a traveling family. It has easy features, can be contained with a built-in backpack, and very easy to set up, 15 seconds only!
The easy portability and set up features come with a price of its lacking bigger space, some features including bassinet.
Lotus Travel Crib is recommended for its simplicity and is a top contender for pack and play for families that are always traveling or on the go.
Specifications
| | |
| --- | --- |
| Brand: | Baby Trend |
| Weight: | 41.3 Pounds |
| Dimensions: | 49.2 x 46 x 30.3 inches |
| Maximum Weight recommendation: | 35 pounds |
| Styles: | Twins Playard |
| Batteries: | Not Required |
| Color: | Circle Tech |
Pros
Built-in with two Rockabye bassinets which are removable

The bassinets are equipped with canopy and carry handle

Covered with plush fabric and mesh sides for ventilation

Has as flip away changing table and a deluxe organizer

Equipped with a one-hand locking mechanism

Equipped with wheels with brakes

Has electronic music center, volume control feature, nightlight and vibration
Cons
The price is very expensive

The weight is very heavy

Some features may raise concern for their durability

Gets messy too soon and hard to clean up
Baby Trend Twin Nursery Centre comes off as an excellent pack n play for families of twins. It has dual Rockabye bassinets for the twins to rest in. The bassinet is also well designed as it has a canopy and a carry handle. It has an electrical device for playing music, nightlights, and vibration
The Twin Nursery has its share of cons too. Some have questioned it for its figures and not too great style. If the twins get relatively older they may find it hard to rest on the bassinets at the same time.
This playard is recommended for parents who have twins and don't want to spend money buying two pack and plays, although it is recommended to go over its cons too before purchasing the product.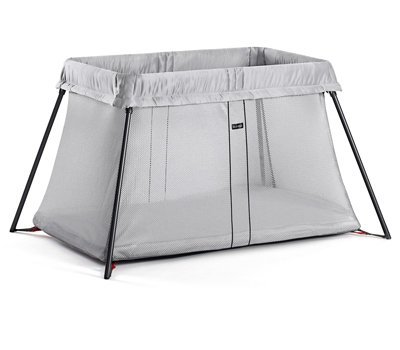 Specifications
| | |
| --- | --- |
| Brand: | Babybjorn |
| Style: | Light travel crib |
| Weight: | 13 lbs |
| Dimension: | 44 x 25 x 32 inches |
| Batteries: | Not required |
| Material Type: | Polyester |
Pros
Very easy to set up and fold

Lightweight, thus easy to carry anywhere

Mattress is soft and comfortable

Comes with many colors

Crib textile is removable and also easy to be washed by machine

No negative comments about its quality
Cons
Extremely pricey product

Doesn't come with a fitted sheet and one has to buy it extra from them which is pricey too

Although simple, lacks exciting features
We have another travel crib here, this time it's Babybjorn Travel Crib Light by the famous baby product company Babybjorn. Like the name suggests this playard is very lightweight, weighing only 13 pounds and good for traveling, as it can be folded and carried anywhere. The overall quality is very good too.
Although a simple, good quality travel pack n play, it lacks very features. Doesn't come with a bassinet or a fitted sheet. Not to mention this product is extremely pricey.
If you have a big budget for a simple, traveling, quality-wise Playard then Babybjorn might be the one for you.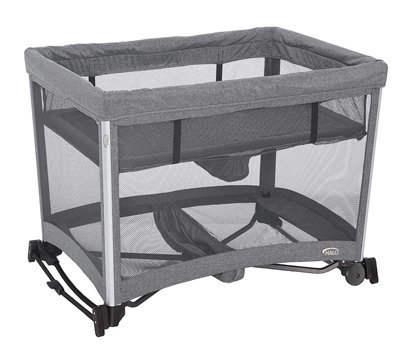 Specifications
| | |
| --- | --- |
| Brand: | Halo |
| Weight: | 30 pounds |
| Dimension: | 32 x 16 x 9.5 inches |
| Batteries: | Not required |
| Maximum weight recommendation: | 30 pounds |
Pros
The surrounding mesh sides are breathable and also removable for machine wash

The 3 in 1 system is specifically designed for three age periods of babies. Bassinet for newborns/infants, portable playard and travel cot for toddlers

Includes features like cot legs and a portable travel bag

The crib frame is also portable

Equipped with their signature 'Easysway' rocker attachment that you can use to comfort your baby to sleep or nap
Cons
Assembling is very hard

Mattress durability is concerning

The durability of the product is questionable
The Halo 3-in-1 playard's three stages design is wonderful and it's a huge thing that it also works as a travel cot. Its portability is a great feature too, considering it comes with a travel bag.
Although the pack n play tries to be more than a playard, to make it all work, you have to work hard, as assembling is very tough. The mattress is also not near a good one.
This pack and play is suggested for those who raise questions for safety, as the Halo 3-in-1 has excellent baby safety concerns. But it's unlikely that this playard will continue to work on smoothly as the baby grows
Specifications
| | |
| --- | --- |
| Brand: | Ingenuity Baby |
| Weight: | 29.8 pounds |
| Dimension: | 29 x 40 x 28.2 inches |
| Material Type: | Plastic, Polyester |
| Style: | Moreland |
| Batteries: | Not required |
| Portability: | Yes |
Pros
Has exciting features like their signature Dream Centre and Changing table

The changing table is flippable

Folding is easy and quick, doesn't need to remove the bassinet

Contains side storage pockets for essentials like wipes, change of clothes, etc

The dream Centre is equipped with soft fabric, mesh, and a toy bar for containing toys

Less expensive
Cons
The bassinet and the mattress has durability concerns

The quality of the product is also questionable

Instructions are hard to follow
The Ingenuity Smart and simple packable portable playard has many exciting features. It is easy to assemble and fold. It can be packed easily too. Its signature changing table feature is great. It also contains storage where you can store your baby necessities. Also to have it all in one simple pack n play, it's relatively very less expensive.
However, it has concerns for its safety as the mattress and the bassinet is of poor quality.
The Ingenuity Smart and Simple packable portable playard can be rather useful for early and quick uses of a baby. For a low or medium budget, this pack and play is very much worthy of your usage.
Specifications
| | |
| --- | --- |
| Brand: | Joovy |
| Weight: | 29.6 pounds |
| Dimension: | 39.8 x 39.8 x 31 inches |
| Material Type: | Cotton |
| Batteries: | Not required |
| Portability: | Yes |
Pros
It is almost fifty percent larger than most other products

Has space of ten square feet, garnering the baby a spacious playard to do many things

Can easily occupy twins

Offers a two-year warranty, much more than most other pack n plays

Equipped with a fully cotton fitted sheet and a travel bag for traveling with it

Equipped with two wheels for portability
Cons
The quality is not praiseworthy

The mattress is not large enough to fully cover the spacious floor

Smells like a chemical odor which can be off beating

Has no extra features
The Joovy New Room2 (square) portable playard is a very large entry in our list as it covers almost 10 square feet of space. So, it's no wonder it's been recommended for twins. It also has great portability features – two wheels and a travel bag.
Although a simple and large playard, it has no extra features to name so. The mattress's quality has been questioned. Its chemical-like smell odor can also be bothering.
Joovy New Room2 is a good, simple, and a very large pack n play nevertheless, not to mention it is also reasonably priced. This product is recommended for those who want a simple, large pack n play for their baby or twins of toddler age.
Specifications
| | |
| --- | --- |
| Brand: | Graco |
| Weight: | 23 pounds |
| Dimension: | 39.5 x 28.5 x 29 inches |
| Maximum Weight Recommendation: | 30 pounds |
| Material Type: | Plastic, Metal, Polyester |
| Batteries: | Not required |
| Portability: | Yes |
Pros
Designed simple and easy

Can be folded and adjusted

Very much cost-friendly

Comes with many colors

Equipped with wheels

Airy mesh sides for maximum airflow
Cons
Lacks many exciting pack n play features

Doesn't come with a bassinet, you have to buy the version with bassinet insert
Graco again enters the list with their simple, less-costly playard called 'Graco Pack N Play on the go playard. It comes with many colors, equipped with wheels for portability, can be adjusted very easily and quickly.
This doesn't have all the shiny features like other Graco pack n plays.
If you want to buy a quality product with a low budget then Graco Pack N Play on the go playard may be the perfect choice for you.
Specifications
| | |
| --- | --- |
| Brand: | Graco |
| Weight: | 11.5 pounds |
| Dimension: | 45 x 50.5 x 27 inches |
| Batteries: | Not required |
| Portability: | Yes |
Pros
Designed very smoothly for Outdoor

Equipped with a large canopy which features a UV protective linear to protect the baby from sunlight

Large and spacious

Has been proven durable and waterproof

The playard is easy to carry and set up is very easy and quick

Has a large storage device both on the canopy and the playard itself
Cons
Not washable

Nylon material obstructs the baby's view

No padding at the bottom
Graco once again enters the list, this time with a playard designed for outdoor. The playard's special features include UV protective canopy which blocks the sunlight. It is easy to set up and can be carried outside areas like park, beach, etc.
This playard has a design fault though, as the nylon material obstructs the baby's view. It's also to be noted that it doesn't have any padding at the bottom.
If you want your baby to have a good outdoor experience then this might be a good choice for you.

Specifications
| | |
| --- | --- |
| Brand: | Regalo |
| Dimension: | 48 x 1 x 26 inches |
| Maximum weight recommendation: | 75 pounds |
| Batteries: | Not required |
| Portability: | Yes |
Pros
Nylon made a bottom, mesh sides all make a comfy playard

Lightweight and easy to carry

Water-resistant and can be used both indoor and outdoor

Cleaning and washing is very easy

Built with steel frame and reinforced stitching for safety measures also contains a safety lock feature

Very easy to set up

Very cost-friendly
Cons
Lacks cool features

Not very much durable

The bottom is not well-protected

Has safety concerns
Regalo My Play Portable Playard is a great entry as it can be used both inside and outside. It's lightweight and very easy to set up. The pack n play is also water-resistant. Washing this is also very easy. Regalo is very much cost-friendly too, you can get it at under $100.
It has some concerns to go over too. It doesn't have all the shiny and exciting features like a modern pack and play. It has concerns for its durability and safety.
If you have a low budget and want a simple, easy to set up pack and play then Regalo My Play Portable Playard might be a good option.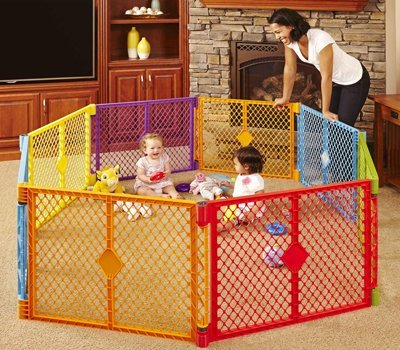 Specifications
| | |
| --- | --- |
| Brand: | Toddleroo by North states |
| Price: | From $120 |
| Weight: | 25.6 pounds |
| Dimension: | 262.5 x 2 x 26 inches |
| Style: | 8 panel |
| Batteries: | Not required |
Pros
Can be used both indoor and outdoor

Setting up and folding up the playard is easy

Colorful plastic panels that can make space up to 34 Square feet

More than one baby can enjoy and occupy their time
Cons
The plastic panel may have sharp corners which can be harmful

Smells like chemicals

Arranging the playard may take a while

Newborn babies are not recommended for this playard
Todderoo by the North States comes with a playard that is more traditional like, has 8 colorful panels, and occupies a large space. This can be used both indoors and outdoors.
This playard is designed for toddlers, so it's best that newborn babies don't use it. It is recommended for those who want a large space for their baby toddlers.
Types of Playard or Pack n Plays
There are various types of playards. Classic playards were made of wood and it had no built-in mattress in it.
The modern Pack and Plays are made of thin plastic, linen stripes, and cloth. They also have many more features compared to the older, classic versions.
Basic Playard
The basic playard is generally inexpensive. It comes with an enclosed space where the baby can sleep and play with their toys.
Some basic pack and play come with features like changing table and bassinet. They are also lightweight and portable thus making it easy for parents to handle it as they like.
Deluxe Pack n Plays
Deluxe pack n plays have some handy features and extra perks compared to the basic playard. Some of the must-have features include a bassinet, changing table, vibrating seat, thick mattress, etc.
Some products also include fancy features like sound speakers, led lights, one to one communication devices, and a built-in storage organizer.
Naturally, with all these features, the deluxe pack n play weighs more and is more expensive than the basic version.
What you should know before buying a Pack n Play
A buyer should know the specifications, playard types, their features before deciding what type of playard they need. Let's look into Playard types and their features so you can have a complete idea of what playard is right for you.
Bassinet:
Many pack n plays now consist of bassinets that are removable from the playard itself. The bassinet is adjusted in the top frame of the pack n play. You can remove the bassinet and adjust it accordingly. 
As babies get older and grow more than 15 pounds, the bassinet is simply of no use then. You can remove the bassinet and use the playard itself for the baby for its later uses.
Changing Table:
This feature comes in as very handy. Using it, you can change your baby without needing to bend over the floor. The changing table is adjusted strongly to the playard and can be removable once it is of no use.
Mesh Sides:
To ensure sufficient ventilation, playards use mesh sides. This also protects the baby from outside harm. Mesh sides are see-through so you can watch your baby from any corner/ angles
Storage Organizer:
Most modern playards come with storage organizers now. You can store your essential items like diapers, wipes, extra clothes, toys in the storage system. The storage system is also removable.
Portability:
Modern playards have portability features to support those who are on the road frequently. One has to re-adjust the playard to its original state to move it from one place to another. The portable playards have to be lightweight and take less space.
Convertibility:
Playards have to have convertible features to adjust their shape. Most playards are convertible now which makes room for many other features.
Entertainment Devices:
Many modern designs contain various entertainment features in them to make it interesting. To keep the baby entertained, some have sound systems, radio, communication devices, built-in toys, lighting, and others.
Canopy:
To keep the baby protected from sunlight, lights, insects and give the baby privacy sleeping, a canopy is handy to do all these. This is why it's a necessary feature.
Mattress:
Playards have a thick mattress on its floor which makes it comfy for the babies to goof around, take a nap or just simply sleep on it. A durable and thick mattress is a must-have for the playard to make it a more comfortable experience for the baby.
Do you want the most comfortable twin mattress for your kids? We have reviewed some top brands on the market. Read here.
Themes and Colors and style:
Colorful usage of themes of the playard makes it more eye-catching, while different styles attribute to different usage of the playard itself. These all make the playard more suitable for the baby.
Detachable Clean Up System:
Newborns/infants don't have the brain wiring to clean after themselves. It takes years to teach them. While they learn, it's important to have a cleanup feature in the playard which can be detachable and can be washed to reuse again.
Wheels:
While adjusting the playard to move it from one place to another sounds great, simply dragging it one place sounds even greater. It'll be easy for you if you have a playard that has wheels attached to it.
Frequently Asked Questions
What is the difference between pack n play, playard and playpen?
Playpens are crib like furniture instead it uses mesh sides and a floor padding. Playards are a modern version of playpens including many new features whereas pack n play is just a famous name of a playard, so famous most playards are referred to as Pack N Play now.
Is Playard safe for sleeping?
Some playards come with bassinets, which makes it very safe for the baby to sleep. Most playards have thick mattresses, mesh sides which makes it a comfortable place for the babies to sleep.
How long can a baby sleep there?
Newborn babies can spend most of their time sleeping on the bassinet that comes with a playard. It is recommended to put a baby under 12 months in the playard for sleeping with no pillows or quilts to prevent suffocation. Once the baby reaches the toddler stage it is recommended to sleep with a pillow on in the playard, however, sleeping in the playard should be discouraged as the baby gets older. (Might be an interesting read for you, baby humidifier reviews )
Do you need to use a mattress for pack and play?
Yes, using a mattress is recommended to make the experience more comfy and safe.
Can I use a pack and play while traveling?
This is Pooja. Blessed with two baby girls. A working mom and a part-time blogger. Love cycling with my family and I will never stop exploring.
Playgrounddad.com is my baby and the goal is to help working parents to pick the best baby products within budget.
Connect with me, Find my social channels below.