Are you thinking about getting the best pottery wheel for your kid? Do you know that a pottery wheel kit can help your children bring out their creative sides while being therapeutic and relaxing?
Studies have shown that pottery is an amazing way to keep your kids in a happy mood besides improving their concentration level.
It can be a great method of self-expression, boosting your children's creativity, helping them learn how to focus, and all while your kids are not throwing any tantrums.
Now, choosing a pottery wheel can be tough if you do not know where to look. However, whether you are looking for a pottery wheel for your toddler or a pottery wheel for beginners, you need not look any further.
Read on and you will find that we have done your research for you.
All you have to do is pick the one you think is best for your child.
Kids Pottery Wheel – Editor's List
| Category | Model |
| --- | --- |
| Complete Pottery Experience | Pottery Wheel for Beginners |
| Create your Foundation | Discovery Kids Motorized Pottery Wheel |
| Easy to Learn (Editors Pick) | Faber-Castell Do Art Pottery Studio, Pottery Wheel Kit for Kids |
| Start Young and Start Cool | Cool Maker – Pottery Studio, Clay Pottery Wheel Craft Kit for Kids Age 6 and Up |
| Take it to the Next Level | US Art Supply Sculpting Wheel – 7″ diameter |
| Best if you are on a Budget | HearthSong Pottery Wheel Special |
Best Pottery Wheel for Kids – 2022 Review Guide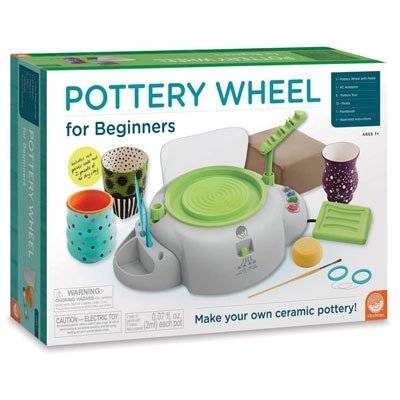 This particular kit is for children 7 ages and up. It runs on an AC adapter, so there's no need for batteries. This kit is perfect for beginner level pottery. The clay has to be molded with water, can be air dried, and your kid can even create ceramic potteries with this.
With a very durable construct, this pottery wheel makes creating even more fun. One of the greatest things about this is that it has a multi-directional switch. So, whether your child is left-handed or right, it has the perfect setting for both. There are specific finishing tools to express one's own style.
We want to vouch for it and say that it is a complete kit with everything that is needed to finish a whole project, including 12 paints to fully unleash one's artistic abilities. If you want your children to grow fundamental skills to build upon, this is the wheel to go for.
The only thing that might feel like a bit of limitation is that the motor might feel weaker to work on advanced level techniques, and the noise coming out of the motor is louder than most.
This might be an amazing choice for your kid to start pottery with, if you are willing to change and replace the motor, as everything else included makes this wheel a definitely good buy at a reasonable price.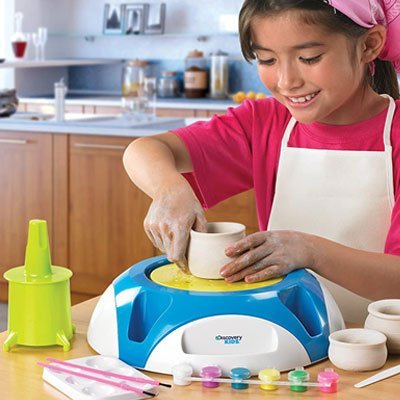 This is not for children under 8 years. It can operate on both 4 AA Batteries and an AC adapter, whichever is convenient for you. The motorized foot pedal gives an authentic feel just like an actual pottery wheel.
Along with the obvious equipment, this kit includes clay-cutting cord, paint pots, glue, excavator, centering tube, mosaic tiles, jewels, spatula, and a clay pocket as well.
This one was made for easy learning and developing basic skills. Children can work with great details and create unique items, such as writing a message with the paint palette.
The turntable is operated with a pedal which can make your children feel like a professional potter. The quality of the wheel is good as well, which means your kid can use it to play and learn for a long time.
The wheel is quite stable, so it is a better choice as it is possible to mold the clay nicely. If the wheel is not stable enough the base might move, which would result in a ruined clay.
However, this potter wheel should not be used to bake a real cake or to make a frosting cake as the motor is not strong enough.
The cord of the plug is a bit short (not that short) so it has to be kept in once place. But this might be a good thing as pottery wheels can be messy, and this means less space for the kids to get dirt on.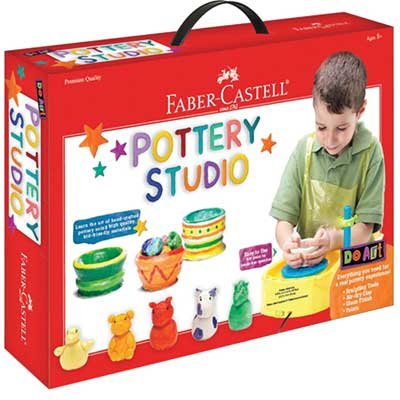 If you want your kid to get the complete pottery experience as a beginner, this is the one to go for. This kit requires only 4 C batteries to work.
It includes everything; clay, a toolset, a craft apron, paints, glaze, sponges, and paintbrushes for the kid; and a table cover for you, so your table stays clean and clay-free.
And last but not least, it comes with the history behind pottery craft which you can read to your children (a great way to bond with them), and, illustrated instructions which can help the kids get started.
Just like an actual pottery wheel, it has to be used with a foot pedal. Also, along with the instructions on how to use the pottery studio, there are techniques and ideas for the children to brainstorm.
This can be very helpful as each child has their own way of expressing their creative side. It is also completely safe, as it contains synthetic clay, which contains fewer bacteria and microbes than organic clay.
However, nothing good comes with a little setback. And for this particular one, the setback is that the wheel itself is not that big. It can only be used for making smaller objects.
Therefore, this can be a good starter for your kid, using it to practice and then eventually move to a bigger potter wheel when it's time.
As the name suggests, this kit is for children over the age of 6. This is quite a unique pottery wheel. It is called "Pottery made easy", mainly because it relies on gravity to do most of the job.
The pottery is created upside down. There are shapes and molds included that helps children get the basic shapes, and the details can be done with different kinds of tools.
It requires 4 C batteries, and a pottery studio, spray bottle, tool holder, clay, paint Brush, sculpting tools, coring tools, sleeves, metallic paint, and definitely the instruction guide.
Among all the pottery wheels, this one is definitely unique and quite interesting. The clay needs to be sculpted upside down, by placing it onto the molds and spraying water as the wheel spins.
The clay included in this wheel has to be air-dried. And after it is air dried, you can design and decorate with sculpting tools and metallic paints.
The difficult part, however, is that a 6-year-old child might find it hard to constantly spray the clay that is being spun. But all in all, it is a great wheel to use once you get the hang of it, and it can be a great choice for the inner designer of your kid.
Now, this one is not a traditional potter's wheel. This is a hand spin tool, meaning it is made to spin by your hands. It is usually used for small pieces of pottery, or for decorating your pottery.
This might not be the right choice for your kids who is just getting into the world of pottery. But if your child is experienced, and s/he wants a challenge, this is definitely the right choice.
The good thing about this spinning wheel is that the wheel spins very smoothly, and also that it is a one-piece, which means it would not fall apart.
It is also quite sturdy and resistant. The bottom has a protective rubber cover. It is definitely very well made. Thus, it will hold well over time.
The bad thing about this is that it is quite heavy. Because of the heaviness, we do not think it's quite suitable for inexperienced children. However, if you do want your children to learn how to use it, you might need to oversee them when they use it, and may even need to help them in the beginning.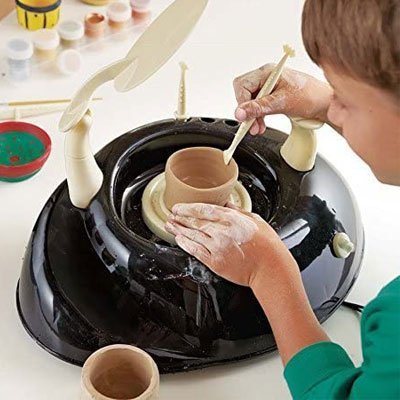 This one is a bit cheaper than the previous ones, and it can be plugged in or run with batteries. It doesn't have a whole lot of options, but it could be a great starter wheel for your child if you are on a budget and want to see if pottery is the right choice for your little one. It includes air dry clay, cutting cord, pots, and paintbrushes.
The setbacks of this wheel are that the clays make thick pottery, which might crack before the clay dries completely. So, you might need to buy separate clays to get better creations.
Other than that, it is a great product, and better than other cheap pottery wheels in the market.
Frequently Asked Questions
Question: What ages are pottery wheels for?
Answer: It depends on which pottery wheel kit you choose to buy. But the recommended age is usually 8. There are some kits you can use from age 6. Not suitable for children under 3 years.
Question: Do the pots need to be fired?
Answer: No. Some clays are air-dry, and they should be made while spraying water. But no fire is needed. The clay will dry on its own.
Question: How long does clay need to dry completely?
Answer: The clay needs to be kept overnight to fully dry.
Question: Where can I buy more clay if I am all out?
Answer: Each kit has its own refilling set you can order. You can also buy clay from local stores.
Question: Can the pottery work with any other clay?
Answer: Most molding clays should work; however, the working time of the clay may vary.
Question: Can you control the speed of the wheel?
Answer: You cannot control the speed. The foot pedals are given as on/off switch. There are no variations.
Question: Do kids need parental supervision to use the kits?
Answer: It might be better for the kids if they are supervised, at least in the beginning.
Question: Can an adult use pottery wheels for kids?
Buying Guide – How to buy the Best Pottery Wheel For Kids
Since our intention is to help you buy the best pottery kit for your toddler, here are the components we think you must know before you make your choice.
Practice Makes Perfect
While each kit has its own specialty, usually pottery kits consist of a wheel that spins the clay and has to be molded into particular shapes.
It also needs the right amount of clay for it to work, the clay might have to be kept overnight to dry completely, and the proper way to make pottery might not come easy at first.
However, the instructions are given with each kit, and one has to read thoroughly and practice consistently in order to get the result they want.
Battery Run v/s AC Adapter
Some pottery kits are only run on batteries, and some can only be plugged in. There are also the ones that can run on either, depending on your choice. It is wise to check which one is preferable to you and buy accordingly.
Only for Making Small Objects
It is good to know that these pottery wheels for beginners can also be called pottery wheel toys, as most of them can only be used to make small pots and little projects.
If you want your child to develop basic skills to lay the foundation you can choose Discovery Kids Motorized Pottery Wheel, or if you want your child to learn to detail with small tools, you can choose Cool Maker – Pottery Studio, Clay Pottery Wheel Craft Kit for Kids Age 6 and Up.
Verdict
Each pottery wheel kit in this list has its own forte. Depending on which pottery wheel might be the best one for your toddler child, you can choose from our top 3 picks.
However, if you want the full package, we would suggest that you choose the pottery Wheel for Beginners, which can help the kids learn not only the skills that will build their grounds, but also the art of engraving little details that will make the experience more satisfying.
Addition Resources:
This is Pooja. Blessed with two baby girls. A working mom and a part-time blogger. Love cycling with my family and I will never stop exploring.
Playgrounddad.com is my baby and the goal is to help working parents to pick the best baby products within budget.
Connect with me, Find my social channels below.